Enchantress of Numbers: A Novel of Ada Lovelace (Hardcover)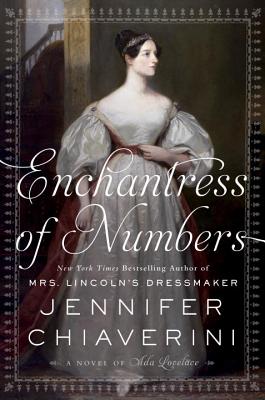 Staff Reviews
---
Ada Lovelace is considered the world's first computer programmer. The only legitimate child of the mercurial Lord Byron, her mother raised her to be rational and disciplined. Ada was a willful child and an early mathematics prodigy. As a young adult she gravitated to intellectual circles and began working with Charles Babbage on his prototype of a number calculating machine. She quickly understood the magnitude of this invention more than he, and began assisting in its development. Even as her improvements to the calculating machine continued, her failing health along with the patronizing view of women meant that her contributions to the study of mathematics were buried for centuries. Chiaverini once again ably shines a light on a little known but accomplished woman.
- Cindy
— From
Cindy's Recs 2
Description
---
New York Times bestselling author Jennifer Chiaverini illuminates the life of Ada Byron King, Countess of Lovelace—Lord Byron's daughter and the world's first computer programmer.
 
The only legitimate child of Lord Byron, the most brilliant, revered, and scandalous of the Romantic poets, Ada was destined for fame long before her birth. But her mathematician mother, estranged from Ada's infamous and destructively passionate father, is determined to save her only child from her perilous Byron heritage. Banishing fairy tales and make-believe from the nursery, Ada's mother provides her daughter with a rigorous education grounded in mathematics and science. Any troubling spark of imagination—or worse yet, passion or poetry—is promptly extinguished. Or so her mother believes.
 
When Ada is introduced into London society as a highly eligible young heiress, she at last discovers the intellectual and social circles she has craved all her life. Little does she realize how her exciting new friendship with Charles Babbage—the brilliant, charming, and occasionally curmudgeonly inventor of an extraordinary machine, the Difference Engine—will define her destiny.

Enchantress of Numbers unveils the passions, dreams, and insatiable thirst for knowledge of a largely unheralded pioneer in computing—a young woman who stepped out of her father's shadow to achieve her own laurels and champion the new technology that would shape the future.
About the Author
---
Jennifer Chiaverini is the New York Times bestselling author of Mrs. Lincoln's Dressmaker, Fates and Traitors, and other acclaimed works of historical fiction, as well as the beloved Elm Creek Quilts series. She lives with her husband and two sons in Madison, Wisconsin.
Praise For…
---
Praise for Enchantress of Numbers

"[An] exquisite biographical novel...a quintessential example of the form...Wholeheartedly recommended for historical-fiction fans and STEM enthusiasts."—Booklist

"Cherished Reader, Should you come upon Enchantress of Numbers by Jennifer Chiaverini...consider yourself quite fortunate indeed…Chiaverini makes a convincing case that Ada Byron King is a woman worth celebrating."—USA Today

"An enchanting story about one woman's struggle for intellectual recognition and independence."—People Magazine, Book of the Week

"[A] fascinating homage."—Real Simple

"While Lovelace may not have received the credit she was due in her own time-period, Chiaverini's novel stands as a fitting ode to one of the greatest women in the history of science."—Harper's Bazaar

"Chiaverini writes captivating stories of forgotten women in history, including that of the young math and science genius Ada Lovelace, responsible for writing the world's first-ever computer code...Chiaverini brings [Ada Lovelace] to life around you...Emotionally evocative and rich in detail, this historical novel will keep you enthralled until the very end."—Bustle

"You'll come away from this book wondering how many other pioneering women in science have been overlooked."—Bitch Media

[Enchantress of Numbers] is a fascinating look at how science and art do not stand at opposite ends of the spectrum, but rather—at their best—work together, and bring us toward a new, undreamed-of future."—Nylon

"Jennifer Chiaverini is a master of historical fiction, and her latest novel, Enchantress of Numbers, is no exception...You'll be glued to the page."—PopSugar

"Enchantress of Numbers tells the story of [Ada Lovelace's] fascinating (and too-short) life. Historical fiction STEM is the literary genre we never knew we needed."—HelloGiggles

"This fascinating portrait of Lord Byron's only legitimate child is not only a picture of a time and place, but of a woman struggling with her nature, passion and desire for learning. Chiaverini's novel, with its straightforward prose, is both inspirational, touching and memorable."—RT Book Reviews

"[An] enthralling historical novel."—Paste

"Chiaverini once again shows her considerable skill breathing life into historical figures that are too little known."—Shelf Awareness

"Fascinating."—The National Examiner