A Very Expensive Poison: The Assassination of Alexander Litvinenko and Putin's War with the West (Paperback)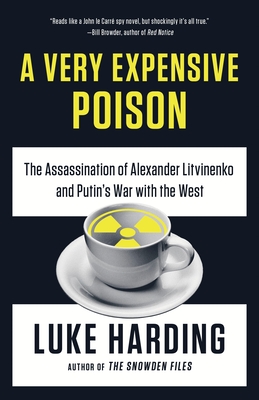 Staff Reviews
---
When Alexander Litvinenko fell gravely ill, doctors in London were stumped - but he was convinced he had been poisoned by orders of Vladimir Putin. As a former dissident in Russia, new British citizen and recent informant for Britain's intelligence service, he knew that he had many enemies within the Russian government. Months after his gruesome death it was determined that he had been poisoned by Polonium - an extremely rare, lethal, and extraordinarily radioactive substance that could only have come from one source: Russia. What follows is a years-long investigation that covers continents and exposes almost unbelievable corruption, brutality and greed. Harding calmly yet inexorably exposes the frightening evidence of Russia's criminal intentions and long-term plans for global dominance.
- Cindy
— From
Cindy's Recs 2
Description
---
A true story of murder and conspiracy that points directly to Vladimir Putin, by The Guardian's former Moscow bureau chief.

On November 1, 2006, journalist and Russian dissident Alexander Litvinenko was poisoned in London. He died twenty-two days later. The cause of death? Polonium—a rare, lethal, and highly radioactive substance. Here Luke Harding unspools a real-life political assassination story—complete with KGB, CIA, MI6, and Russian mobsters. He shows how Litvinenko's murder foreshadowed the killings of other Kremlin critics, from Washington, DC, to Moscow, and how these are tied to Russia's current misadventures in Ukraine and Syria. In doing so, he becomes a target himself and unearths a chain of corruption and death leading straight to Vladimir Putin. From his investigations of the downing of flight MH17 to the Panama Papers, Harding sheds a terrifying light on Russia's fracturing relationship with the West.
About the Author
---
Luke Harding is an award-winning foreign correspondent with The Guardian. Between 2007 and 2011 he was the Guardian's Moscow bureau chief; the Kremlin expelled him from the country in the first case of its kind since the Cold War.
Praise For…
---
"Gripping. . . . The case against Mr. Putin, his intelligence agencies and their hitmen was built gradually over the years, by detective work and intelligence. As set out by Mr. Harding in this book, it arouses a demonic fascination. . . .Mr. Harding ranges widely, far beyond the Litvinenko case, in A Very Expensive Poison. . . .  Presidents who sup with Vladimir Putin should bring a very long spoon indeed." —Daniel Johnson, The Wall Street Journal

"Harding is a great journalist. . . . His work is precious. . . . With experience and lucidity, he helps us to understand that we must be vigilant and always ready to guard the most precious asset of all, not a gift but a right: freedom." —Roberto Saviano, l'Espresso

"Drawing on interviews, original reportage, and a British public inquiry, Harding reiterates the inquiry's findings: Litvinenko was the victim of a political assassination that was indistinguishable from a gangland hit. . . . Harding suitably conveys the shocking, violent, and tragic story of a man whose murder has gone unpunished." —Publishers Weekly (Starred Review)

"Harding's exposé, shortlisted for the CWA Nonfiction Dagger Award, could not be more chilling or timely. . . . A devastating and disturbing must-read." - Booklist

"A chilling look at the Putin regime's murderous suppression of its critics. . . . In this fast-paced book, Harding, who was expelled from the Kremlin while serving as the Guardian's Moscow bureau chief, covers all the bases while exposing the weakness and accommodationism of the now-departed British leadership. Hard-hitting and timely given Russia's continued sway in international politics as well as its documented influence over an incoming American administration that is also hostile to the press." - Kirkus 

"Extraordinarily pacy...one of the best political thrillers I have come across in years." - The Evening Standard

"Harding...tells this ghastly tale with real authority, wit, and panache. . . . The book is as 'definitive' as it claims." - The Times

"Impassioned...Harding paints deft portraits of the tragi-comic duo suspected of carrying out the crime." - The New Statesman

"Gripping." - London Review of Books

"A Very Expensive Poison reads like a John Le Carré spy novel, but shockingly it's all true. Luke Harding has followed the criminality of the Putin regime from Russia to the West and his story leaves us with terrible feelings of dread about what Putin will do next." - Bill Browder, author of Red Notice

"An expert chronicler of a sensational but opaque crime...Enthralling." - A. D. Miller, author of Snowdrops

"Harding lays out every fact connecting it in thrillerish detail to the dark undercurrents of life in today's Russia." - Oliver Bullough, author of The Last Man in Russia

"Horrific, instructive and, at times, hilarious. He is a masterful storyteller and an impeccable researcher." - Federico Varese, Professor of Criminology, University of Oxford
Upcoming Events
No upcoming events available