Furious Hours: Murder, Fraud, and the Last Trial of Harper Lee (Hardcover)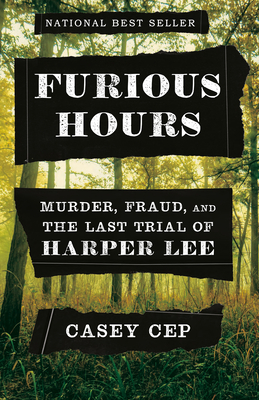 Staff Reviews
---
The residents of rural Coosa County, Ala., could be forgiven for being leery of Reverend Willie Maxwell. After all, five people close to him, including two wives, died mysteriously - leaving life insurance policies in Maxwell's name. Cep explores both the strange case of Maxwell's life and death, and how famous Alabama native Harper Lee came out of seclusion and shook off her demons to try to chronicle this story of crime and vigilantism. Cep's candid and empathetic portrayal of a gifted author tortured by success, creatively blocked, yet who spent years researching this true-crime story, provides what may be the most comprehensive recounting of Lee's ultimately futile attempt to write a follow-up to To Kill a Mockingbird. With Furious Hours, readers will conclude, Cep has written the book that Lee herself wanted to write.
-Cindy
— From
Cindy's Recs
May 2019 Indie Next List
---
"In Cold Blood and To Kill a Mockingbird kept me up reading all night as a teen, and I can now add Furious Hours to the list of couldn't-put-it-down tomes. I was enthralled, educated, and awestruck by Casey Cep's well-researched and masterfully written true-crime account of a rural minister, his lawyer, and his killer. Thankfully, Cep discovered and brought to light what surely could have been Harper Lee's second bestseller. Now…off to get a good night's rest!"
— Beth Stroh, Viewpoint Books, Columbus, IN
Description
---
New York Times Best Seller
 
"Compelling . . . at once a true-crime thriller, courtroom drama, and miniature biography of Harper Lee. If To Kill a Mockingbird was one of your favorite books growing up, you should add Furious Hours to your reading list today." —Southern Living
 
Reverend Willie Maxwell was a rural preacher accused of murdering five of his family members for insurance money in the 1970s. With the help of a savvy lawyer, he escaped justice for years until a relative shot him dead at the funeral of his last victim. Despite hundreds of witnesses, Maxwell's murderer was acquitted—thanks to the same attorney who had previously defended the Reverend.
 
Sitting in the audience during the vigilante's trial was Harper Lee, who had traveled from New York City to her native Alabama with the idea of writing her own In Cold Blood, the true-crime classic she had helped her friend Truman Capote research seventeen years earlier. Lee spent a year in town reporting, and many more years working on her own version of the case.

Now Casey Cep brings this story to life, from the shocking murders to the courtroom drama to the racial politics of the Deep South. At the same time, she offers a deeply moving portrait of one of the country's most beloved writers and her struggle with fame, success, and the mystery of artistic creativity.
About the Author
---
CASEY CEP is a writer from the Eastern Shore of Maryland. After graduating from Harvard with a degree in English, she earned an M.Phil in theology at Oxford as a Rhodes Scholar. Her work has appeared in The New Yorker, The New York Times, and The New Republic, among other publications. This is her first book.
Praise For…
---
One of Time's 10 Best Nonfiction Books of 2019

One of The Washington Post's Most Notable Reads of 2019

"She explains as well as it is likely ever to be explained why Lee went silent after To Kill a Mockingbird. (The clue's in Cep's title.) And it's here, in her descriptions of another writer's failure to write, that her book makes a magical little leap, and it goes from being a superbly written true-crime story to the sort of story that even Lee would have been proud to write." —Michael Lewis, The New York Times Book Review

"A compelling hybrid of a novel, at once a true-crime thriller, courtroom drama, and miniature biography of Harper Lee. If To Kill a Mockingbird was one of your favorite books growing up, you should add Furious Hours to your reading list today." —Southern Living

"Cep delivers edge-of-your-seat courtroom drama while brilliantly reinventing Southern Gothic…The result is an enthralling work of narrative nonfiction—Cep's debut—and a poignant meditation on a book that never was."—O Magazine

"[A] well-told, ingeniously structured double mystery—one an unsolved serial killing, the other an elusive book—rich in droll humour and deep but lightly worn research"
—The Economist

"A brilliant take on the mystery of inspiration and the even darker mysteries of the human heart." —People

"What I didn't see coming was the emotional response I'd have as I blazed through the last 20 pages of the book — yet there I was, weeping…A gripping, incredibly well-written portrait of not only Harper Lee, but of mid-20th century Alabama — and a still-unanswered set of crimes to rival the serial killers made infamous in the same time period." —Ilana Masad, NPR

"Cep's book is a marvel. In elegant prose, she gives us the fullest story yet of Lee's post-Mockingbird life in New York–boozy, unproductive, modest despite her means, yet full of books and theater–and her quest in Alabama, where she grew close to Radney and his family, to tell the Maxwell story. Cep's is an account emotionally attuned to the toll that great writing takes, and shows that sometimes one perfect book is all we can ask for, even while we wish for another." —Lucas Wittmann, Time
 

"Remarkable, thoroughly researched... the great, acrobatic trick Cep accomplishes is to deliver a book so richly detailed and full of thoughtfully condensed research without having access to any of its three main subjects: Willie Maxwell, Tom Radney, and Lee... Cep has a knack for a chapter-ending cliffhanger and building a sort of eerie tension... At her best, Cep manages the feat that all great nonfiction aspires to: combining the clean precision of fact with the urgency of gossip." —Margaret Eby, The New York Review of Books
 

"[E]xemplary literary true crime…Gripping and meticulous, Cep's work doesn't make us choose between fidelity and style." —Boris Kachka, Vulture
 
"In Cep's thrilling account of an Alabama murderer, his killer, and the lawyer who got them both off, we get to see the To Kill a Mockingbird author hot on the trail of some slippery characters while she struggles to write a worthy follow-up to her iconic novel." —O, The Oprah Magazine
 
"Tells a crime story but also says a great deal about the racial, cultural and political history of the South.  As a portrayal of the life of a writer, the section on Lee is by itself worth the price of admission." —John Glassie, The Washington Post

"Cep narrates this saga atmospherically and with empathy. There are lyrical passages... plus judicious detail... Excursions into the annals of life insurance fraud and folkways of voodoo are fascinating."—Stephen Phillips, The Los Angeles Times
 
"Casey Cep's Furious Hours does something wholly unique: in exploring the bizarre circumstances linking a breadth of crimes—murder and insurance fraud, the failures of the criminal justice system, and the legacy of racism in the South—Cep probes at the mystery of a place built on slave labor, where injustice has seeped into the soil and the courtroom itself is an engine of inequity." —Camille Leblanc, CrimeReads

"This riveting account of both the murders and Lee's reporting, writing, and editing process is fascinating for its behind-the-scenes look at one of the South's cherished creative minds."—CJ Lotz, Garden & Gun

"Fascinating, addicting, and unbearably suspenseful." —Adam Morgan, Longreads

"In Furious Hours, Casey Cep gives readers a brilliant history of the life-insurance industry (it's more exciting that it sounds!), a riveting true crime story, and a dazzling biography of one of America's most beloved writers." —Bustle

"It's been a long time since I picked up a book so impossible to put down. Furious Hours made me forget dinner, ignore incoming calls, and stay up reading into the small hours. It's a work of literary and legal detection as gripping as a thriller. But it's also a meditation on motive and mystery, the curious workings of history, hope, and ambition, justice, and the darkest matters of life and death. Casey Cep's investigation into an infamous Southern murder trial and Harper Lee's quest to write about it is a beautiful, sobering, and sometimes chilling triumph."
—Helen Macdonald, author of H is for Hawk