Notes from a Marriage - poems and photography by Gavin Geoffrey Dillard (Hardcover)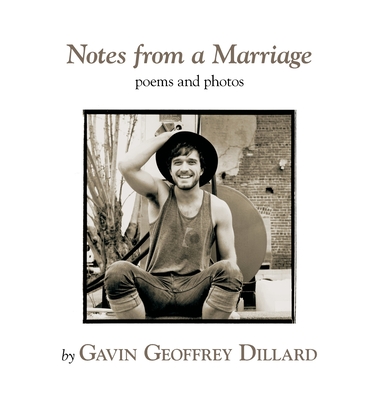 $33.00

Usually Ships in 1-5 Days
(This book cannot be returned.)
Description
---
Foreword by
Felice Picano
I was on book tour in Los Angeles and had just given a reading at the old Unicorn Bookstore in West Hollywood, when I noticed a handsome young man wearing white pants and a colorful Hawaiian shirt completely unbuttoned. Several people had grabbed my attention but I turned to him and said, "We'll talk in a minute. And by the way, don't button that shirt for the next ten years." Later we did talk and he told me he had a sheaf of poetry titled Notes From a Marriage he wanted to send me, and for my SeaHorse Press to publish. By then SeaHorse had put out two successful books of poetry, my own The Deformity Lover in 1977, and Dennis Cooper's Idols in 1979.
A few months later, he sent me the poetry. I read it through and enjoyed it. But I don't think he was expecting my reply. I wrote, "I like this poetry very much. But I think you should wait a few months, add to it, and send it back to me."
My reasoning was that he had written of an affair that - in the words of the old song - was "too hot / not to cool down." I was right. I received a full manuscript of the earlier poems, and the ones after the breakup. Then it was a perfect book.
Gavin sent me a great photo of himself, and I found a beautiful black and white photo by the author John Preston to use on the cover, and I set it in a pastel green surround.
There were several but not enough good reviews. But Notes From a Marriage sold and sold, year after year. I found it on the checkout shelves of many gay bookstores, near the cash register - especially around Christmas and Valentines Day. I think it totaled 7500 copies ( ) before SeaHorse Press ended and I moved west.