Best Debt Elimination Plan: Debt Management Strategies that Get You Out of Debt Quickly and Economically (Paperback)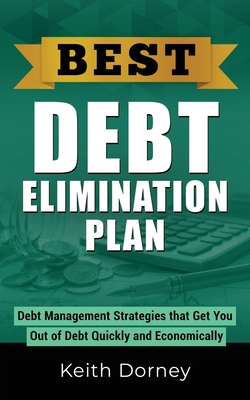 $9.99
Email or call for price/availability
Description
---
Best
Debt Elimination Plan
I challenge you to embrace and implement the "best" debt elimination plan. By best I mean a plan that gets you out of debt faster than any other, and in the interim does it for the least amount of money. Be warned, however, that embracing and implementing the best debt elimination plan is the easy part.
The difficultly lies in changing your spending and savings habits so you can live on what's left over. Those habits are more than likely what got you into debt in the first place. An expense gathering device that tracks all the different ways you spend money will help. So will identifying key financial tasks, like reconciling and scheduling payments. Make these and other critical money tasks lifelong monthly habits.
Debt Elimination Percentage
From this day forward, take your debt elimination percentage right off the top of each paycheck and apply it to your debt elimination plan. The trick is to set your percentage at a level that will get you out of debt in months, not years, yet still leave enough to allow for at least some level of comfort. Mess with your debt elimination percentage until you get it right. Once you commit to it, you must defend your percentage at all costs
Making Payments
Did you know with most bills there is no benefit to paying early? Learn how to suck all the utility out of your cash flow by paying bills on the due date. The one big exception is when eliminating credit card debt. Credit Card Payments should be made as early as possible, regardless of the due date. This strategy saves you big time money and gets you out of credit card debt faster than you ever thought possible.
I'll share lots of insider information on debt elimination, saving, and spending that a lot of folks don't want you to know. They'd rather keep you in debt and make more money for themselves. Don't let them keep you down.
Eliminate Your Debt Quickly
During your debt elimination period, it's a good idea to try and up your debt elimination percentage as high as possible. Be even more thrifty and frugal. Ask for a raise or get a second job. It might be worth the temporary hardship. Remember, besides putting you on the road to wealth building that much sooner, the faster you get out of debt the more money you'll save.
Thinking about buying a new car or securing a mortgage? Be sure to read the Automobile Trap and Bi-Monthly Mortgage chapters before you shop. Also, consider your individual situation when deciding what to do with any Old Debt.
As you can probably tell, I'm looking to shake up your financial house a bit. That means potentially changing lifelong habits and overcoming societal pressures. That's why I'll dial up not only the information you need in easy-to-understand language with lots of examples, but also bring enthusiasm and emotional support. Trust me, it's well worth the effort. Eliminating your unwanted debt can be a life changing event.
Life After Debt
Take a moment and imagine the day you finally eliminate all your unwanted debt. Go on, close your eyes, and try to imagine how you'll feel at that moment. Dream about restoring some of that restricted spending you endured during your debt elimination period, but how are you going to spend the rest of it?
Get excited at the prospect of you eliminating all your unwanted debt. Get even more excited about your Life After Debt. You'll have the opportunity to leverage those new-found saving and spending skills into something spectacular When saved and invested properly, money can do that.
Start your own debt elimination plan right now. Scroll to the top of the page and click on the "Buy" button.