Doorway to Murder: A Blackwell and Watson Time Travel Mystery (Paperback)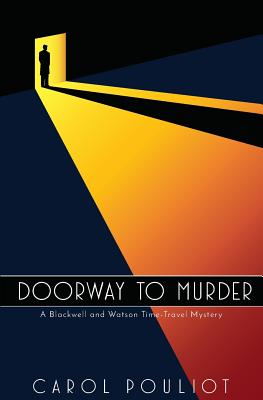 Description
---
In a small New York town, secrets lurk and betrayal is just around the corner.
The morning after the worst blizzard of 1934, Detective Steven Blackwell takes
on a highly charged murder case. The investigation starts badly: one clue, lots
of lies and alibis. To make things worse, Steven is seeing visions of a woman
in his house. One night she speaks. Her name is Olivia and she lives in 2014.
She believes time has folded over in the house they share. As their relationship
deepens, Steven's investigation intensifies. Soon he can no longer trust anyone
in his own time. Can Olivia help crack the case - and catch a killer?
With its fresh premise covering two eras that crackle off the page, Carol
Pouliot introduces compelling characters to lead her series forward. Add a
sharply written mystery with clever plot twists, and you have all the elements
that make DOORWAY TO MURDER an accomplished debut. - Marni Graff,
award-winning author, the Nora Tierney series and Death Unscripted
Mystery. Romance. Time-travel adventure. DOORWAY TO MURDER is the
total package. Carol Pouliot interweaves the past and present as easily as I
turned the pages. I highly recommend this fun read. - Betsy Bitner,
award-winning humor columnist, Times Union (Albany, NY)
There's nothing I like more than a time-travel tale, but how much better to
get a crisp, fair-play police procedural, too. The atmosphere grabbed me. The
ending surprised me. I'm already looking forward to Steven and Olivia's next
adventure. - Catriona McPherson, multi-award-winning author of the
Edgar-shortlisted The Day She Died.
Steven and Olivia make a great couple of crime busters in this era-jumping
romance and hard-boiled police procedural. Join them. You'll be glad you did
- Steve Axelrod, author of the Henry Kennis Nantucket mysteries