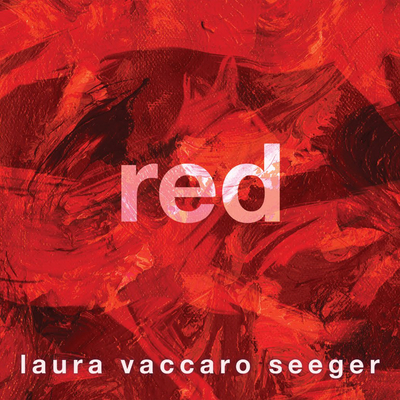 Description
---
From the Two-time Caldecott Honor Award winning author/illustrator of Green and Blue comes Red, a story about a lost fox that explores emotions-- fear, love, anger, and more-- through the use of vivid color.

Dark Red,
Light Red,
Lost red,
Bright red.

With a combination of sumptuous illustrations, ingenious die-cut pages, and simple text, Red is a beautiful companion to the Caldecott Honor Book Green and the highly acclaimed Blue. In this book, award-winning artist Laura Vaccaro Seeger once again turns her attention to the ways in which color evokes emotion.

Separated from its family, a lone fox experiences, anger, fear, and ultimately love as it journeys home. Lost and alone, he makes his way through a dark forest, injures his paw, has glancing encounters with humans, and finds himself trapped in a cage, before an act of kindness returns him to the wilderness.
About the Author
---
Laura Vaccaro Seeger is the author and illustrator of nearly two dozen acclaimed picture books, including Why, the recipient of four starred reviews, and the popular Dog and Bear series, the first of which won the Boston Globe Horn Book Medal. She has been awarded a Caldecott Honor twice, for First the Egg and again for Green, and a Geisel Honor twice, for First the Egg and One Boy. Blue, her companion to Green, has received four starred reviews. She lives in Rockville Center, New York.
Praise For…
---
"Laura Vaccaro Seeger has wrought meaning and serendipity from the permutations of a single hue."—Wall Street Journal

★ "Seeger masterfully draws readers into the unique, powerful link between emotion and color through her story of a lost red fox meeting human-made barriers on his journey home. . . . Wrapped in the heavy, honest tensions ­between color and ­emotion, Seeger emboldens children to connect with the young fox's story and feel the raw consequence of ­humans' indifferent influence on the environment."—School Library Journal, Starred Review

★ "A worthy companion to its two acclaimed thematic predecessors, Green (2012) and Blue (2018). . . . Seeger's thickly painted illustrations deftly convey these myriad emotions. . . . The color red appears in autumn sunsets and sunrises, late-blooming flowers, ripe apples, and the foliage of the trees while strategically placed die-cuts add interest to the already involving tale of a youngster trying to find its way home."—Booklist, Starred Review

★ "Gorgeous, autumnal red-golds visually narrate the fox's unwitting incursions into a rural landscape studded with human-made barriers. . . ."—Kirkus Reviews, Starred Review

★ "As with Red's predecessors, Seeger pairs the sparest rhyming text with lovingly labored-over die-cut art. . . . Seeger's acrylics are up to the heavy lifting required by a minimal text. Each spread wears its brushstrokes with pride, the paint at times thin enough to let the canvas peek through. The technique reminds attentive readers of the human presence behind Red, which aligns with the book's message: while the specter of danger looms over the fox, human kindness prevails in the form of a girl who plays a key role in the story."—Shelf Awareness, Starred Review
 
"The painterly acrylic images and strategic die-cuts immerse viewers in the fox's world and trials, from it trailing the pack to becoming lost to enduring hunger, injury, and capture, until its eventual return to its family. . . . The story is an anytime one, the fox a stand-in for anyone going through trouble on the way to security."—The Horn Book