The Paris Letter (Acting Edition) (Paperback)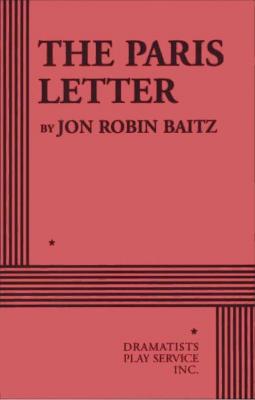 $9.50
Email or call for price/availability
Description
---
Drama

Full Length
5 men, 1 woman (doubling): 6 total

Flexible Set
In Jon Robin Baitz's play The Paris Letter, Wall Street powerhouse Sandy Sonnenberg finds his personal and professional life threatened by the unraveling secrets of his past. A tragic game of financial and moral betrayal is played out over four decades and between two friends at the cost of family, friendship, love and marriage.
Praise For…
---
"…a potent stew of sensational incident…fiercely eloquent…actions always have moral dimensions in Mr. Baitz's plays…THE PARIS LETTER is no exception…effortlessly articulate…tracing the interlocking grooves of psychology and morality." —NY Times.
"…head and shoulders above most current dramatic offerings…THE PARIS LETTER has potential to rank beside works of Arthur Miller and Tennessee Williams. Baitz writes vibrant, stingingly literate dialogue…" —Variety.
"There is no shortage of plot in THE PARIS LETTER…Baitz is an intelligent, provocative writer, who specializes in moral conundrums…his characters have a complexity, a richness, a level of cultural awareness that was once standard but is now exotic…[a] stunning new play…" —NY Daily News.