La Verdad: An International Dialogue on Hip Hop Latinidades (Global Latin/o Americas) (Paperback)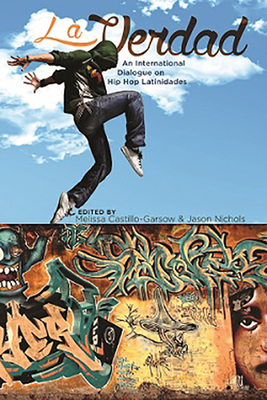 $29.95

Usually Ships in 1-5 Days
(This book cannot be returned.)
Description
---
From its earliest days, hip hop was more than just music, encapsulating the ideas of community and exchange. Artists like Mellow Man Ace and Kid Frost opened doors by infusing Spanish into their lyrics, calling for racial and social equality; others employed hip hop to comment on the effects of neo-liberalization and global capital. In recent decades, the cultural exchange has expanded—the music traveling from the United States to Latin America and back as visual artists, music producers, MCs, vocalists, and dancers combine their Latin cultures with influences from north of the U.S. border to create new artistic experiences. And while there is an extensive body of work on U.S. hip hop, it continues to evolve in an increasingly multilingual, multiethnic, intergenerational, and global collection of cultural expressions.
 
A truly international effort, La Verdad: An International Dialogue on Hip Hop Latinidades brings together exciting new work about Latino/a hip hop across more than a dozen countries, from scholars and practitioners in the United States and in Latin America, highlighting in new ways the participation of women, indigenous peoples, and Afro-descendants in a reimagined global, hip hop nation. From graffitera crews in Costa Rica and Nicaragua to Mexican hip hop in New York, from Aymara rap in Bolivia to Chicano rap in Taiwan, this volume explodes stereotypes of who and how hip hop is consumed, lived, and performed.  Examining hip hop movements in Spanish, English, Portuguese, Aymara, and Creole, La Verdad demonstrates that Latino hip hop is a multilingual expression of gender, indigeneity, activism, and social justice.
About the Author
---
Melissa Castillo-Garsow is a PhD candidate in American Studies and African American Studies at Yale University. Jason Nichols is a full-time lecturer in the African American Studies Department at the University of Maryland and Editor in Chief of Words Beats & Life: The Global Journal of Hip-Hop Culture.
 
Praise For…
---
"This volume forges a new path in the critical debates on hip hop by studying the global engagement of Latinos with hip hop, one in which a transnational lens becomes absolutely necessary. La Verdad contributes to a reflection on the interrelationship among hip hop, culture, and identity, but more specifically it presents a collective argument on the glocalization of hip hop. It examines the globalization of the genre as well, including the many ways it has been appropriated, transformed, reinvented, and used as a critical tool for a diversity of social causes among Latinos and Latin Americans." —Ignacio Corona, coeditor of Postnational Musical Identities: Cultural Production, Distribution, and Consumption in a Globalized Scenario