Reducing Firearm Injury and Death: A Public Health Sourcebook on Guns (Paperback)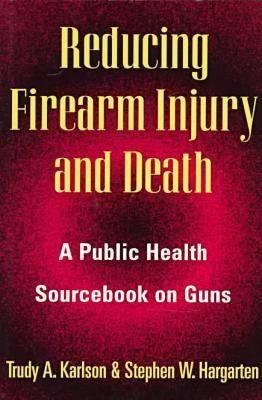 $36.95

Usually Ships in 1-5 Days
Description
---
There are few issues more explosive than guns. "Guns don't kill people, people kill people," is an often-heard response to calls for firearm control. But are there ways to make guns safer without placing further restrictions on gun owners? Can guns be engineered to reduce the number and severity of injuries?
This book is about guns and new solutions for addressing problems they create. Trudy Karlson and Stephen Hargarten, two experts in public health and injury control, show readers how guns are products, designed to injure and kill, and how changes in the design, technology, and marketing of firearms can lead to reductions in the number of injuries and fatalities.
Just as innovations in the design and technology of motor vehicles succeeded in creating safer cars, Karlson and Hargarten describe how responsible changes to gun products can reduce the number of serious injuries and fatalities. The injury control perspective illustrates how the characteristics of guns and ammunition are associated with their ability to cause injury and death. It also provides options for how guns can be re-engineered to ensure a greater degree of safety and protection. Reducing Firearm Injury and Death teaches basic facts about guns and gun injuries, and by reframing the problem of firearms as a public health issue, offers hope for saving lives.
Praise For…
---
An extremely informative guide that expands the focus on firearms and the criminal justice field to approaches based on the science of injury control. A must for public health and mental health professionals dealing with violence and suicide prevention.
— Susan Scavo Gallagher

The book is a clearly written primer on guns and ammunition and examines the public health policy implications of these consumer products and the injury and death that they cause. The epidemiology, mechanisms, costs, and means for prevention and reducing injury and death from guns are discussed. It is a valuable resource for those involved in protecting the health of the public and in creating a safer America.
— Murray L. Katcher M.D. Ph.D.

This much-needed book sends a powerful message: we can prevent firearm deaths and injuriesùespecially if we learn our lessons about gun design and distribution.
— Susan P. Baker