The Path of Daggers: Book Eight of 'The Wheel of Time' (Mass Market)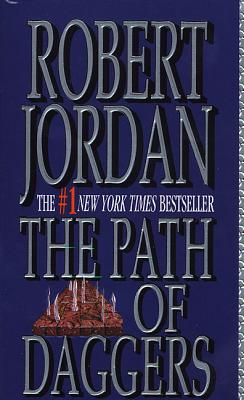 Email or call for price/availability
Other Books in Series
This is book number 8 in the Wheel of Time series.
Description
---
The Wheel of Time is now an original series on Prime Video, starring Rosamund Pike as Moiraine!

Since its debut in 1990, The Wheel of Time® by Robert Jordan has captivated millions of readers around the globe with its scope, originality, and compelling characters.

The Wheel of Time turns and Ages come and go, leaving memories that become legend. Legend fades to myth, and even myth is long forgotten when the Age that gave it birth returns again. In the Third Age, an Age of Prophecy, the World and Time themselves hang in the balance. What was, what will be, and what is, may yet fall under the Shadow.

The Seanchan invasion force is in possession of Ebou Dar. Nynaeve, Elayne, and Aviendha head for Caemlyn and Elayne's rightful throne, but on the way they discover an enemy much worse than the Seanchan.

In Illian, Rand vows to throw the Seanchan back as he did once before. But signs of madness are appearing among the Asha'man.

In Ghealdan, Perrin faces the intrigues of Whitecloaks, Seanchan invaders, the scattered Shaido Aiel, and the Prophet himself. Perrin's beloved wife, Faile, may pay with her life, and Perrin himself may have to destroy his soul to save her.

Meanwhile the rebel Aes Sedai under their young Amyrlin, Egwene al'Vere, face an army that intends to keep them away from the White Tower. But Egwene is determined to unseat the usurper Elaida and reunite the Aes Sedai. She does not yet understand the price that others--and she herself--will pay.

The Wheel of Time®
New Spring: The Novel
#1 The Eye of the World
#2 The Great Hunt
#3 The Dragon Reborn
#4 The Shadow Rising
#5 The Fires of Heaven
#6 Lord of Chaos
#7 A Crown of Swords
#8 The Path of Daggers
#9 Winter's Heart
#10 Crossroads of Twilight
#11 Knife of Dreams

By Robert Jordan and Brandon Sanderson
#12 The Gathering Storm
#13 Towers of Midnight
#14 A Memory of Light

By Robert Jordan and Teresa Patterson
The World of Robert Jordan's The Wheel of Time

By Robert Jordan, Harriet McDougal, Alan Romanczuk, and Maria Simons
The Wheel of Time Companion

By Robert Jordan and Amy Romanczuk
Patterns of the Wheel: Coloring Art Based on Robert Jordan's The Wheel of Time
About the Author
---
ROBERT JORDAN (1948-2007) is best known for his internationally bestselling epic fantasy series The Wheel of Time®, which has sold over 40 million copies in North America and is currently being adapted for the screen. A native of Charleston, Jordan graduated from The Citadel, the Military College of South Carolina, with a degree in physics. He served two tours in Vietnam with the U.S. Army and received multiple decorations for his service.
Praise For…
---
Praise for Robert Jordan and The Wheel of Time®

"His huge, ambitious Wheel of Time series helped redefine the genre." —George R. R. Martin, author of A Game of Thrones

"Anyone who's writing epic of secondary world fantasy knows Robert Jordan isn't just a part of the landscape, he's a monolith within the landscape." —Patrick Rothfuss, author of the Kingkiller Chronicle series

"The Eye of the World was a turning point in my life. I read, I enjoyed. (Then continued on to write my larger fantasy novels.)" —Robin Hobb, author of the award-winning Realm of the Elderlings series

"Robert Jordan's work has been a formative influence and an inspiration for a generation of fantasy writers." —Brent Weeks, New York Times bestselling author of The Way of Shadows

"Jordan's writing is so amazing! The characterization, the attention to detail!" —Clint McElroy, co-creator of the #1 podcast The Adventure Zone

"[Robert Jordan's] impact on the place of fantasy in the culture is colossal... He brought innumerable readers to fantasy. He became the New York Times bestseller list face of fantasy." —Guy Gavriel Kay, author of A Brightness Long Ago

"Robert Jordan was a giant of fiction whose words helped a whole generation of fantasy writers, including myself, find our true voices. I thanked him then, but I didn't thank him enough." —Peter V. Brett, internationally bestselling author of The Demon Cycle series

"I don't know anybody who's been as formative in crafting me as a writer as [Robert Jordan], and for that I will be forever grateful." —Tochi Onyebuchi, author of Riot Baby and War Girls

"I've mostly never been involved in any particular fandom, the one exception of course was The Wheel of Time." —Marie Brennan, author of the Memoirs of Lady Trent series

"I owe Robert Jordan so much. Without him, modern fantasy would be bereft of the expansive, deep worlds and the giant casts which I love so dearly. It's not often I can look at another author and say: that person paved my way. But such is exactly the case with Jordan." —Jenn Lyons, author of The Ruin of Kings

"You can't talk about epic fantasy without acknowledging the titanic influence Robert Jordan has had on the grenre." —Jason Denzel, author of Mystic and founder of Dragonmount.com

"Jordan has come to dominate the world Tolkien began to reveal." —The New York Times

"The Wheel of Time [is] rapidly becoming the definitive American fantasy saga. It is a fantasy tale seldom equaled and still less often surpassed in English." —Chicago Sun-Times

"Hard to put down for even a moment. A fittingly epic conclusion to a fantasy series that many consider one of the best of all time." —San Francisco Book Review

"The most ambitious American fantasy saga [may] also be the finest. Rich in detail and his plot is rich in incident. Impressive work, and highly recommended." —Booklist

"Recalls the work of Tolkien." —Publishers Weekly

"This richly detailed fantasy presents fully realized, complex adventure. Recommended." —Library Journal

"Jordan has come to dominate the world that Tolkien began to reveal." —The New York Times

"Jordan is able to take ... familiar elements and make them his own, in a powerful novel of wide and complex scope. Open religious and political conflicts add a gritty realism, while the cities and courts provide plenty of drama and splendor. Women have a stronger role than in Tolkien.... Each character in this large cast remains distinct.... Their adventures are varied, and exciting.... The Eye of the World stands alone as a fantasy epic." —Locus

"Robert Jordan has created a fantasy world as tangible and credible as history. He has a fine eye for detail and a vivid sense of drama." —Morgan Llewelyn

"Robert Jordan's The Eye of the World proves that there's still plenty of life in the ancient tradition of epic fantasy. Jordan has a powerful vision of good and evil-- but what strikes me as most pleasurable about The Eye of the World is all the fascinating people moving through a rich and interesting world." —Orson Scott Card

"Jordan's world is rich in detail and his plot is rich in incident. Impressive work, and highly recommended." —ALA Booklist