Caterpillar Dogs: and Other Early Stories (Paperback)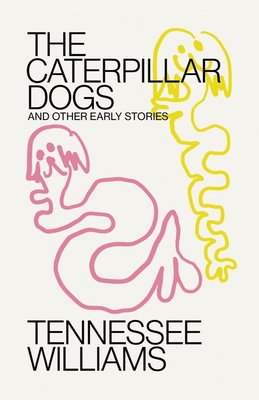 Description
---
Seven previously unpublished stories of the Great Depression by America's poet laureate of the lost
These tales were penned by one Thomas Lanier Williams of Missouri before he became a successful playwright, and yet his voice is unmistakable. 
The reliable idiosyncrasies and quiet dignity of Williams's eccentrics are already present in his characters. Consider the diminutive octogenarian of "The Caterpillar Dogs," who may have just met her match in a pair of laughing Pekinese that refuse to obey; the retired, small-town evangelist in "Every Friday Nite is Kiddies Nite," who wears bright-colored pajamas and receives a message from God to move to St. Louis and finally, finally go to the movies again; or the distraught factory worker whose stifled artistic spirit, and just a soupçon of the macabre, propel the drama of "Stair to the Roof."
Love's diversions and misdirections, even autoerotic longings, are found in these delightful lagniappes: in "Season of Grapes," the intoxicating ripeness of summer in the Ozarks acquaints one young man with his own passions, which turn into a fever dream, and the first revelation of female sexuality blooms for a college boy in "Ironweed."Is there such a thing as innocence? Apparently in the 1930s there was, and Williams reveals it in these stories.
About the Author
---
 Tennessee Williams (1911–1983) was America's most influential playwright. Readers have devoured his poetry, essays, short stories, and letters, as well as his fantastic late plays, his remarkable corpus of one-acts, and his greatest plays—The Glass Menagerie, A Streetcar Named Desire, Cat on a Hot Tin Roof, The Night of the Iguana, The Rose Tattoo, Suddenly Last Summer, and Camino Real. Williams is a cornerstone of New Directions—we publish everything he wrote. He is also our single bestselling author.
Theater director and Tennessee Williams scholar
Tom Mitchell 
is professor emeritus at the University of Illinois, Champaign Urbana. He has directed all of Williams's early full-length plays and adapted several of Williams's unpublished short stories for the stage.
Praise For…
---
Williams has something rather more rare than mere genius. He has a narrative tone of voice that is totally compelling.
— Gore Vidal

Williams's ear for dialogue, his eye for character and his dramatic gifts are as powerful in his stories as they are in his plays.
— John Berendt - The New York Times

Williams, the Pulitzer-winning playwright and author of the collection Hard Candy, shows glimmers of his mature style in these modest sketches…This is a fine addition to Williams's broad oeuvre.

— Publishers Weekly

If you love his late work, then you'll love his early work also...Gerard Manley Hopkins, in one of his sonnets, wrote, "Each mortal thing does one thing and the same: / Deals out that being indoors each one dwells / Selves—goes itself; myself it speaks and spells, / Crying What I do is me: for that I came." That's the pleasure of reading this little collection of juvenilia—to catch Tennessee in his early days, already selving.
— Casey Cep - The New Yorker

The stories contain threads from which Williams would go on to weave the grand tapestry of his later work... To see the essence of who's there writing as a young man is to feel the essence of who's there later.
— Cerith Mathias - Deep South Magazine