The Beekeeper: Rescuing the Stolen Women of Iraq (Paperback)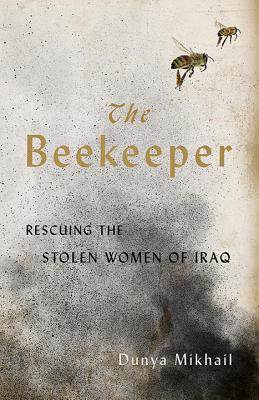 $16.95
Usually Ships in 1-5 Days
Staff Reviews
---
Since 2014, ISIS has terrorized northern Iraq by killing men who won't convert to Islam and kidnapping their families. Those enslaved are forced into the sex trade and sometimes work with chemical weapons. Abdallah is a beekeeper who organizes a network of rescuers consisting of unnoticed farmers or shopkeepers. His ability to find ransom, plan escape routes across countries and remain calm with terrorists is remarkable. The fearlessness of the captives who trust strangers in order to escape is equally striking. Mikhail, an Iraqi-born American citizen, relays a series of heart-wrenching conversations with several Iraqi women, interspersed with her reminiscences of her childhood in Iraq. Headlines don't do justice to many victims of global terror, and so this book gives needed attention to one such group.
- Cindy
— From
Cindy's Recs 2
Description
---
The true story of a beekeeper who risks his life to rescue enslaved women from Daesh
Since 2014, Daesh (ISIS) has been brutalizing the Yazidi people of northern Iraq: sowing destruction, killing those who won't convert to Islam, and enslaving young girls and women.
The Beekeeper, by the acclaimed poet and journalist Dunya Mikhail, tells the harrowing stories of several women who managed to escape the clutches of Daesh. Mikhail extensively interviews these women—who've lost their families and loved ones, who've been sexually abused, psychologically tortured, and forced to manufacture chemical weapons—and as their tales unfold, an unlikely hero emerges: a beekeeper, who uses his knowledge of the local terrain, along with a wide network of transporters, helpers, and former cigarette smugglers, to bring these women, one by one, through the war-torn landscapes of Iraq, Syria, and Turkey, back into safety.
In the face of inhuman suffering, this powerful work of nonfiction offers a counterpoint to Daesh's genocidal extremism: hope, as ordinary people risk their own lives to save those of others. 
About the Author
---
Dunya Mikhail was born in Baghdad, Iraq, and moved to the United States thirty years later in 1995. After graduating from the University of Baghdad, she worked as a journalist and translator for the Baghdad Observer. Facing censorship and interrogation, she left Iraq, first to Jordan and then to America, settling in Detroit. New Directions published her books The Beekeeper: Rescuing the Stolen Women of Iraq, The Iraqi Nights, Diary of A Wave Outside the Sea, and The War Works Hard—chosen as one the New York Public Library's Books to Remember in 2005—as well as her edited volume, 15 Iraqi Poets. She has received a Guggenheim Fellowship, a Knights Foundation grant, a Kresge Fellowship, and the United Nations Human Rights Award for Freedom of Writing, and works as a special lecturer of Arabic at Oakland University in Michigan.

Max Weiss is an Associate Professor of History and Near Eastern Studies at Princeton University. He is the author of In the Shadow of Sectarianism, and the translator of Samar Yazbek's A Woman in the Crossfire and Nihad Sirees's The Silence and the Roar.
Praise For…
---
Haunting and captivating—a powerful portrait of courage.

Mikhail's harrowing account of the horrors inflicted on women captured by Isis...A powerful reminder.

The Beekeeper is a brutally important, electrifying, and lyrical true story.
— Paige Van de Winkle

A searing portrait of courage.

Iraqi journalist and poet Mikhail lays bare the agonizing experiences of the Yazidi people at the hands of ISIS in this visceral account of the outskirts of modern day Iraq. In 2014, ISIS began invading villages of northern Iraq, killing most of the men and enslaving the women and children. Much of Mikhail's account is made up of first-person testimonies of several survivors who speak of being repeatedly raped, sold to the highest bidder, and tortured. They recall losing their families and witnessing their children, raised by ISIS supporters, becoming "a distorted version" of who they once were. Mikhail also homes in on the rescue efforts of a man named Abdullah, a local beekeeper who used his knowledge of the region and the money he made selling honey in Iraq and Syria to cultivate a "hive of transporters and smugglers" to save women; he subsequently connected Mikhail to several survivors. Powerful and heartbreaking, this work lets the survivors tell their stories and highlights the courage of those risking their lives to rescue others.
— The Beekeeper: Rescuing the Stolen Women of Iraq

The stories in The Beekeeper are reminiscent of tales of escapees on the US's Underground Railroad of the mid-1800s or during the Holocaust. The book is a paean for coexistence in a multiethnic, multi-religious, multilingual Iraq. Powerful and difficult.

— M. Lynx Qualey

Dunya Mikhail, award-winning poet, has gathered first-person stories from those who survived [an] unthinkable ordeal, as well as those who worked tirelessly to rescue them. We should all read it.
— Peter Stanford

This remarkable book tells of one man's attempts to fight back and to rescue his people from a life of horror. In the hands of Dunya Mikhail, an Iraqi Assyrian poet, the stories of these women and their escape, with Abdullah's help, become a horrifying tightrope walk. Abdullah's story is a remarkable one, and it is told with great intensity by Mikhail.
— Louise Callaghan

Remarkable. A child's perspective mingles freely with the poet's mature voice,
both baffled by the paradoxes of so much beauty and so much destruction.
— Ron Charles

Shakespeare would have enjoyed the poetry of Dunya Mikhail, who has spoken of love as a response to a war-torn world–an aesthetic, a value, and a
practice. 
— Elizabeth Toohey
Upcoming Events
No upcoming events available