Kaspar and Other Plays (Paperback)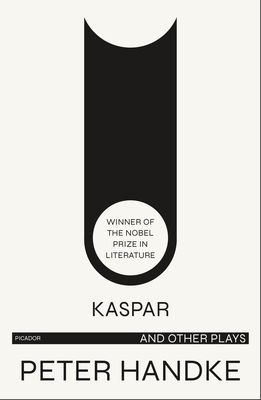 Description
---
Nobel Prize winner Peter Handke's first full-length drama, hailed in Europe as "the play of the decade" and compared in importance to Waiting for Godot

Kaspar is the story of an autistic adolescent who finds himself at a complete existential loss on the stage, with but a single sentence to call his own. Drilled by prompters who use terrifyingly funny logical and alogical language-sequences, Kaspar learns to speak "normally" and eventually becomes creative--"doing his own thing" with words; for this he is destroyed.

In Offending the Audience and Self-Accusation, one-character "speak-ins," Handke further explores the relationship between public performance and personal identity, forcing us to reconsider our sense of who we are and what we know.
About the Author
---
Peter Handke was born in Griffen, Austria, in 1942. A novelist, playwright, and translator, he is the author of such acclaimed works as The Moravian Night, A Sorrow Beyond Dreams, The Goalie's Anxiety at the Penalty Kick, and Repetition. The recipient of multiple literary awards, including the Franz Kafka Prize and the International Ibsen Award, Handke is also a filmmaker. He wrote and directed adaptations of his novels The Left-Handed Woman and Absence, and co-wrote the screenplays for Wim Wenders' Wrong Movie and Wings of Desire. He won the Nobel Prize for Literature in 2019.

Michael Roloff contributed to Peter Camenzind from Picador.
Praise For…
---
"It's not often you come across writing that resounds with the undeniable sense that a writer's life hangs in the balance." —Sam Shepard, Vanity Fair

"Unmistakably one of the best writers we have in that self-discovering tendency in contemporary writing we have chosen to call post-modernism. His plays and novels have steadily and splendidly put to the test many of our essential presumptions about the nature of reality and art." —Malcolm Bradbury, The New York Times Book Review