Lord High Executioner: The Legendary Mafia Boss Albert Anastasia (Paperback)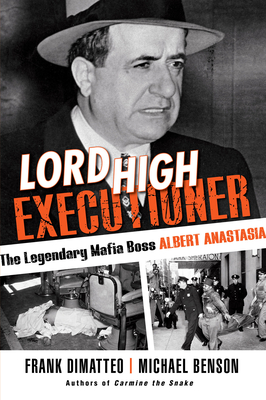 Description
---
From acclaimed true-crime author Michael Benson and real-life "Mafia Survivor" Frank Dimatteo, the gripping account of the life and crimes of the most infamous mafia boss of all time: Albert Anastasia, the man whose name is synonymous with Murder, Inc., and whose actions helped create the American Mafia.

The blood-soaked saga of the Murder, Inc. legend who helped create the modern American Mafia--one body at a time--featuring shocking eyewitness accounts...

Umberto "Albert" Anastasia was born in Italy at the turn of the century. Five decades later, he would be gunned down in a barbershop in New York City. What happened in the years in between--and why every crime family had reason to want him dead--is one of the most brutal and fascinating stories in the history of American organized crime. This in-depth account of the man who became one of the most powerful and homicidal crime bosses of the twentieth century from Mafia insider Frank Dimatteo is the first full-length book to chronicle Anastasia's bloody rise from fresh-off-the-boat immigrant to founder of the notorious killer's club Murder, Inc.--featuring never-before-told accounts from those who feared him most...

They called him "The One Man Army." "Mad Hatter." "Lord High Executioner." Albert Anastasia came to America mean and became a prolific killer. His merciless assassination of Mafia godfather Vincent Mangano is recounted here in chilling first-hand detail. He set the record: the first man in the history of American justice to be charged with four separate murders--and walk free after each one. But in the end, he was the last obstacle in rival Mafia hoodlum Vito Genovese's dream of becoming the boss of bosses--and paid the ultimate price...
About the Author
---
Frank Dimatteo is a lifelong Brooklynite, Mafia "survivor," and publisher of Mob Candy magazine. He is the author of the acclaimed memoir, The President Street Boys: Growing Up Mafia, as well as Mob Candy's Brooklyn Gangsters and Manhattan Gangsters.

Michael Benson is the author of more than sixty books, including the true crime titles Betrayal in Blood, Killer Twins, and Mommy Deadliest. He also wrote Who's Who in the JFK Assassination, and, most recently, The Devil at Genesee Junction. He regularly appears on ID: Investigation Discovery channel, including On the Case with Paula Zahn, and Deadly Sins. He is the recipient of the Academy of American Poets award.