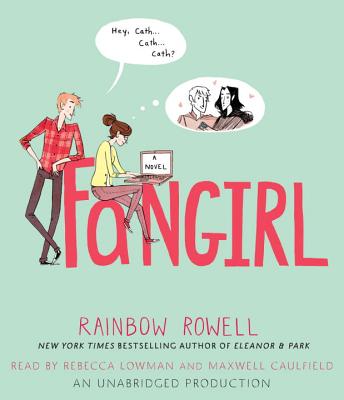 $60.00
Email or call for price/availability
Staff Reviews
---
Cather and Wren are twins. In a moment of foreshadowing, their mom
didn't want to think of another name, so "Catherine" works for both of
them. When their mom leaves their family, the girls are left to take
care of each other and a father with bipolar disorder. Cather finds her
escape in writing fan fiction, a hobby that consoles her when her first
year of college doesn't go swimmingly. Her roommate is mean, her sister
is distant, and her roommate's boyfriend is super nice-almost too nice.
Rainbow Rowell tells another excellent love story in her latest
novel-worth a read, fangirl or not!
— CAT, off-to-college bookseller
Description
---
In Rainbow Rowell's Fangirl, Cath is a Simon Snow fan. Okay, the whole world is a Simon Snow fan, but for Cath, being a fan is her life—and she's really good at it. She and her twin sister, Wren, ensconced themselves in the Simon Snow series when they were just kids; it's what got them through their mother leaving.

Reading. Rereading. Hanging out in Simon Snow forums, writing Simon Snow fan fiction, dressing up like the characters for every movie premiere.

Cath's sister has mostly grown away from fandom, but Cath can't let go. She doesn't want to.

Now that they're going to college, Wren has told Cath she doesn't want to be roommates. Cath is on her own, completely outside of her comfort zone. She's got a surly roommate with a charming, always-around boyfriend, a fiction-writing professor who thinks fan fiction is the end of the civilized world, a handsome classmate who only wants to talk about words . . . And she can't stop worrying about her dad, who's loving and fragile and has never really been alone.

For Cath, the question is: Can she do this? Can she make it without Wren holding her hand? Is she ready to start living her own life? Writing her own stories? Open her heart to someone? Or will she just go on living inside somebody else's fiction?
About the Author
---
RAINBOW ROWELL lives in Omaha, Nebraska, with her husband and two sons. She's also the author of Attachments.