OCD, the Dude, and Me (Hardcover)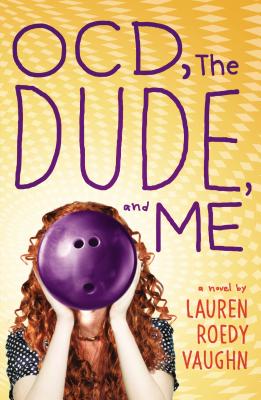 Staff Reviews
---
In a masterful debut, Vaughn gives us a protagonist to remember – and to love. Danielle tells her story through journal entries, essays written for English class, e-mails, and letters. She's dealing with a host of issues: she attends a school for kids with learning disabilities, where she's low on the pecking order; she was adopted by wonderful parents whom she feels she consistently disappoints; she has OCD and body-image difficulties; she's hopelessly in love with her school's alpha male. But she has a strong and diverse support network, a keen eye, and a real gift for writing. Vaughn deftly avoids stereotypes in giving us achingly believable, three-dimensional characters and situations.
- Banna
— From
Banna's Recs
Description
---
With frizzy orange hair, a plus-sized body, sarcastic demeanor, and "unique learning profile," Danielle Levine doesn't fit in even at her alternative high school. While navigating her doomed social life, she writes scathing, self-aware, and sometimes downright raunchy essays for English class. As a result of her unfiltered writing style, she is forced to see the school psychologist and enroll in a "social skills" class. But when she meets Daniel, another social misfit who is obsessed with the cult classic film The Big Lebowski, Danielle's resolve to keep everyone at arm's length starts to crumble.
About the Author
---
Lauren Roedy Vaughn is an award-winning educator who has spent twenty years teaching English to high school students with language-based learning disabilities. Lauren lives with her husband in Los Angeles, where she is an avid yogini and Big Lebowski nut.
Praise For…
---
There are good books, and there are great books, and then there are books with characters you'll never forget. Vaughn's debut about a high school senior whose struggle to fit in is compounded by the social quirks associated with her OCD is definitely one of those rare finds...A must-read. — Kirkus

Vaughn structures her debut as a combination of Danielle's diary entries, e-mails, and the essays she writes for English class. Vaughn skillfully shows how making an actual friend and being introduced to the model of The Big Lebowski's Dude (and his ability to "abide") contribute to Danielle's upturn. Her problems don't go away, but her perspective on them and ability to cope shifts and improves. — Publishers Weekly

Vaughn employs various mediums such as emails, English essays, and letters to structure the plot of this novel.  This literary style creates a multidimensional view of Danielle and humanizes obsessive-compulsive disorder. This novel would be a great addition to any classroom or library because adolescents will learn about perseverance from a typical teenager who has a unique way of viewing and interacting with world. — VOYA

With a touch of humor and sarcasm throughout, this one is sure to find an appreciative audience. — School Library Journal, starred review