Loon: Memory, Meaning, and Reality in a Northern Dene Community (Paperback)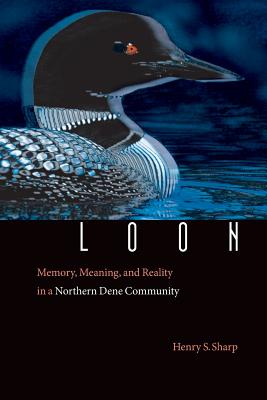 $29.95

Usually Ships in 1-5 Days
(This book cannot be returned.)
Description
---
In August 1975 at Foxholm Lake on the reserve of the Chipewyan, a Northern Dene people, in the Northwest Territories of Canada, the anthropologist Henry S. Sharp and two members of the Mission Band encountered a loon. Loons are prized for their meat and skin, so the two Chipewyan tried—thirty times—to kill it. The loon, in a brazen display of power, thwarted these attempts and in doing so revealed itself to be a "spirit." In this book, Sharp embarks on a narrative exploration of the Chipewyan culture that examines the nature of a reality within which wild animals are both persons and spirits. In an unforgettable journey through the symbolic universe and daily life of the Chipewyan of Mission, his work uses the context and meaning of the loon encounter to show how spirits are an actual and almost omnipresent aspect of life. To explain how the Chipewyan create and order the shared reality of their culture, Sharp develops a series of analytical metaphors that draw heavily on quantum mechanics. His central premise: reality is an indeterminate phenomenon created through the sharing of meaning between cultural beings. In support of this argument, Sharp examines such topics as the nature of time, power, gender, animals, memory, gossip, magical death, and the construction of meaning. Creatively argued and evocatively written, his work presents a compelling picture of one people engaged in the human struggle to create meaning.
About the Author
---
Henry S. Sharp has been a professor at the University of Victoria and Simon Fraser University in Canada and a former scholar-in-residence at the University of Virginia and is now semi-retired. He is the author of The Transformation of Bigfoot: Maleness, Power, and Belief among the Chipewyan and Hunting Caribou:
Subsistence Hunting along the Northern Edge of the Boreal Forest (Nebraska, 2015) with Karyn Sharp.
Praise For…
---
"A well-told narrative ethnography of the Dene people of Mission, Canada, during the last decades of the twentieth century."—Tom Mould, Journal of American Folklore

"Loon is a wonderful text that—as most thoroughly complex and interesting texts do—starts with a very simple premise. . . . I recommend this book to anybody interested in what anthropology is really about, trying to gain a deeper insight into the construction of meaning and reality, or truly creative and critical thinking and writing, and I also warmly recommend it for use in introductory and advanced classes on a number of subjects dealing with these issues." —Sebastian Braun, North Dakota Quarterly