The Imaginary (Hardcover)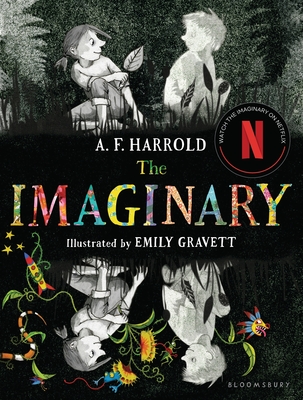 $16.99
Usually Ships in 1-5 Days
Staff Reviews
---
Middle Grade
While Harrold has a singular voice, he's channeled some of Roald Dahl's delicious, wry creepiness in this astonishing middle-grade novel. Amanda's imaginary friend, Rudger, accompanies her on many and various adventures. Her mother finds this charming, though Rudger is invisible to her. But not to everyone. A mysterious Mr. Bunting and his own imaginary friend can see Rudger, too – and they have nefarious plans for him. An accident that lands Amanda in the hospital introduces Rudger to a whole world of imaginaries with complicated rules and relationships. Emily Gravett's brilliant illustrations take this terrific book over the top. Kids with imagination and pizzazz will be reading it over and over!
- Banna
— From
Banna's Recs
Description
---
Rudger is Amanda Shuffleup's imaginary friend. Nobody else can see Rudger--until the evil Mr. Bunting arrives at Amanda's door. Mr. Bunting hunts imaginaries. Rumor has it that he even eats them. And now he's found Rudger.
Soon Rudger is alone, and running for his imaginary life. He needs to find Amanda before Mr. Bunting catches him--and before Amanda forgets him and he fades away to nothing. But how can an unreal boy stand alone in the real world?
In the vein of Coraline, this gripping take on imaginary friends comes to life in a lush package: beautiful illustrations (10 in full color) by acclaimed artist Emily Gravett, a foiled and debossed case cover, printed endpapers, and deckled page edges.
About the Author
---
A.F. Harrold is an English poet (1975 - present). He writes and performs for adults and children, in cabaret and in schools, in bars and in basements, in fields and indoors. He was Glastonbury Festival Website's Poet-In-Residence in 2008, and Poet-In-Residence at Cheltenham Literature Festival in 2010. He won the Cheltenham All Stars Slam Championship in 2007 and has had his work on BBC Radio 4, Radio 3 and BBC7. He is active in schools work, running workshops and slams and doing performances at ungodly hours of the morning, and has published several collections of poetry. He is the owner of many books, a handful of hats, a few good ideas and one beard.

Emily Gravett is an award-winning children's author and illustrator who lives in Brighton, England. She is the winner of the Kate Greenaway Medal for Wolves and Little Mouse's Big Book of Fears.
Praise For…
---
"Harrold offers an appealingly childcentric world with hefty doses of scare and malevolence. . . . Gravett's several double-page, full-color illustrations, along with lively margin drawings, sweetly blend the real with the imaginary, giving Amanda and Rudger appealing personality--and deliver chills in the form of Mr. Bunting and his own dreadfully spooky imaginary companion. Wonderfully entertaining." —starred review, Kirkus Reviews
"[An] inventive mix of humor and suspense. . . . The author is equally adept at depicting lighthearted characterizations and scenes that are truly scary. Gravett's illustrations provide excellent support for the story. . . A great choice for readers who like fantastic tales with a dose of true scariness." —starred review, School Library Journal
"Emily Gravett's delicate illustrations (and dazzling cover art) . . . capture the motion of Amanda and Rudger's adventures, but the tranquility of play too. . . . For all its flirtations with danger, 'The Imaginary' is most affecting and lovely when describing powerful relationships -- the ones we need and the ones we want, and how this shifts, surprising us, over the course of our lives." —The New York Times Book Review
"Echoes of Who Framed Roger Rabbit? and Toy Story can be detected in Harrold's (the Fizzlebert Stump books) eerie standalone fantasy. . . . Harrold's story moves along at a steady clip, thanks to some very tense sequences and Gravett's typically polished illustrations, which feature spikes of lurid color and haunting imagery." —Publishers Weekly
"Gravett's full color double-page spreads are magnificent in their capture of the otherworldly tone of the novel. . . The buoyancy and joy in the scenes where Amanda and Rudger take a few ordinary objects and dream up whole worlds of entertainment may have readers wishing they had such a perfect friend." —BCCB
"[A] nuanced exploration of the relationship between imagination and memory. . . . Gravett's illustrations use transparency and opacity, color and black-and-white to indicate how real everyone in a scene is to everyone else." —The Horn Book Magazine
"[A] winningly whimsical celebration of the imagination, beautifully enhanced by both black-and-white and full-color illustrations by Kate Greenaway Medal–winning Gravett. Together, the text and pictures make this a very real treat." —Booklist
Upcoming Events
No upcoming events available