Better the Blood (Hardcover)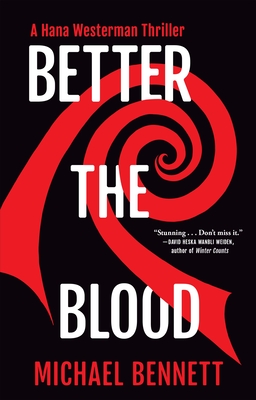 Staff Reviews
---
Colonialism plays a major part in Michael Bennett's debut novel, Better The Blood. A heinous event in the 1860s in New Zealand becomes the impetus for a series of vengeful acts in the 2020s. Young Maori detective Hana Westerman and lawyer turned professor/activist Poata Raki go head-to-head, questioning loyalty and Maori traditions. Both struggle to restore balance in their lives - one the peaceful way, the other vindictive.
As the author so well stated, ". . . the sheer unified will of those gathered in the name of love, peace and compassion could change the course of events." Better the Blood is a thriller bound to resonate with us all, as we somehow build a common path towards acceptance of all cultures. The melodic words of the Maori language, that so aptly flow throughout the novel, are even more relevant!
- MINDY
— From
Mindy's Recs
January 2023 Indie Next List
---
"Fast-paced and fascinating. Hana Westerman is a senior police detective, Māori, and a mother. It all comes into play in the chase for a serial killer intent on righting the wrongs of the colonial past. I hope this is the first of many!"
— Anne Holman, The King's English Bookshop, Salt Lake City, UT
Description
---
An absorbing, clever debut thriller that speaks to the longstanding injustices faced by New Zealand's indigenous peoples, by an acclaimed Māori screenwriter and directorA tenacious Māori detective, Hana Westerman juggles single motherhood, endemic prejudice, and the pressures of her career in Auckland CIB. Led to a crime scene by a mysterious video, she discovers a man ritualistically hanging in a secret room and a puzzling inward-curving inscription. Delving into the investigation after a second, apparently unrelated, death, she uncovers a chilling connection to an historic crime: 160 years before, during the brutal and bloody British colonization of New Zealand, a troop of colonial soldiers unjustly executed a Māori Chief.Hana realizes that the murders are utu--the Māori tradition of rebalancing for the crime committed eight generations ago. There were six soldiers in the British troop, and since descendants of two of the soldiers have been killed, four more potential murders remain. Hana is thus hunting New Zealand's first serial killer.The pursuit soon becomes frighteningly personal, recalling the painful event, two decades before, when Hana, then a new cop, was part of a police team sent to end by force a land rights occupation by indigenous peoples on the same ancestral mountain where the Chief was killed, calling once more into question her loyalty to her roots. Worse still, a genealogical link to the British soldiers brings the case terrifyingly close to Hana's own family. Twisty and thought-provoking, Better the Blood is the debut of a remarkable new talent in crime fiction.
About the Author
---
Michael Bennett (Ngāti Pikiao, Ngāti Whakaue) is an award-winning screenwriter, director, and author whose films have been selections at major festivals, including Cannes, Berlin, Toronto, and New York. His nonfiction book, In Dark Places, which explored an infamous miscarriage of justice, won awards, and his young adult graphic novel, Helen and the Go-Go Ninjas, was a finalist for the 2019 New Zealand Book Awards.