Transient Desires: A Commissario Guido Brunetti Mystery (Paperback)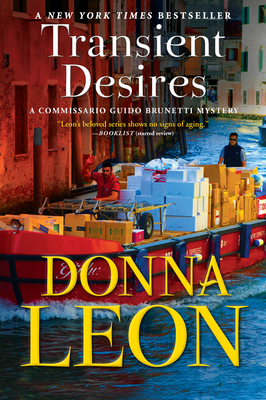 $17.00

Usually Ships in 1-5 Days
Staff Reviews
---
For thirty years, fans of Donna Leon have followed Commissario Guido Brunetti through the canals of Venice as he has solved each case. After spending an eve with two Venetians, two American women end up in the hospital and Brunetti is called to investigate. But much more is discovered, and this may be the case that forces Brunetti to rethink his career. As in her other novels, Leon takes us on Brunetti's daily excursions through Venice - his usual stops for coffee, lunch, wine - giving us a yearning to travel straight to Italy, thinking we just might run into the commissario himself. Looking forward to Donna Leon's thirty first!
- Mindy
— From
Mindy's Recs
Description
---
In the landmark thirtieth installment of the bestselling series the New Yorker has called "an unusually potent cocktail of atmosphere and event," Guido Brunetti is forced to confront an unimaginable crime
In his many years as a commissario, Guido Brunetti has seen all manner of crime and known intuitively how to navigate the various pathways in his native city, Venice, to discover the person responsible. Now, in Transient Desires, the thirtieth novel in Donna Leon's masterful series, he faces a heinous crime committed outside his jurisdiction. He is drawn in innocently enough: two young American women have been badly injured in a boating accident, joy riding in the Laguna with two young Italians. However, Brunetti's curiosity is aroused by the behavior of the young men, who abandoned the victims after taking them to the hospital. If the injuries were the result of an accident, why did they want to avoid association with it?
As Brunetti and his colleague, Claudia Griffoni, investigate the incident, they discover that one of the young men works for a man rumored to be involved in more sinister nighttime activities in the Laguna. To get to the bottom of what proves to be a gut-wrenching case, Brunetti needs to enlist the help of both the Carabinieri and the Guardia di Costiera. Determining how much trust he and Griffoni can put in these unfamiliar colleagues adds to the difficulty of solving a peculiarly horrible crime whose perpetrators are technologically brilliant and ruthlessly organized.
Donna Leon's Transient Desires is as powerful as any novel she has written, testing Brunetti to his limits and forcing him to listen very carefully for the truth.
About the Author
---
Donna Leon, born in New Jersey in 1942, has worked as a travel guide in Rome and as a copywriter in London. She taught literature in universities in Iran, China, and Saudi Arabia. Commissario Brunetti made her books world-famous. Donna Leon lived in Italy for many years, and although she now lives in Switzerland, she often visits Venice.