It's our 23rd Anniversary! Enjoy 23% discount on all titles purchased in-store!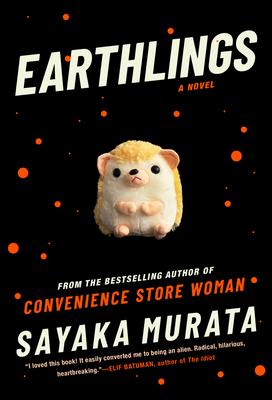 Staff Reviews
---
Natsuki is an outlier in a conventional family and is comforted by Piyyut, a toy that she thinks is animate and from another planet. Her cousin Yuu, of similar age, is also a family outsider who believes he's an actual alien. When a teacher rapes Natsuki and no one believes her, she says, with customary understatement, "It's really hard to put into words things that are just a little bit not okay." Readers, in detail, know how "not okay" it is. Her harrowing reaction to this abuse is the first indication she's approaching a disassociation from which it will be hard to return. Her stand against conformity that stretches into adulthood eventually leads to a grotesque and unexpected twist that is not for the squeamish but which punctuates her compelling desire for metamorphosis.
-Cindy
— From
Cindy's Recs
Description
---
From the beloved author of cult sensation Convenience Store Woman, which has now sold more than one million copies worldwide and has been translated into thirty-three languages, comes a spellbinding and otherworldly novel about a woman who believes she is an alien
Sayaka Murata's Convenience Store Woman was one of the most unusual and refreshing bestsellers of recent years, depicting the life of a thirty-six-year-old clerk in a Tokyo convenience store. Now, in Earthlings, Sayaka Murata pushes at the boundaries of our ideas of social conformity in this brilliantly imaginative, intense, and absolutely unforgettable novel.
As a child, Natsuki doesn't fit in with her family. Her parents favor her sister, and her best friend is a plush toy hedgehog named Piyyut, who talks to her. He tells her that he has come from the planet Popinpobopia on a special quest to help her save the Earth. One summer, on vacation with her family and her cousin Yuu in her grandparents' ramshackle wooden house in the mountains of Nagano, Natsuki decides that she must be an alien, which would explain why she can't seem to fit in like everyone else. Later, as a grown woman, living a quiet life with her asexual husband, Natsuki is still pursued by dark shadows from her childhood, and decides to flee the "baby factory" of society for good, searching for answers about the vast and frightening mysteries of the universe--answers only Natsuki has the power to uncover.
Dreamlike, sometimes shocking, and always strange and wonderful, Earthlings asks what it means to be happy in a stifling world, and cements Sayaka Murata's status as a master chronicler of the outsider experience and our own uncanny universe.
About the Author
---
Sayaka Murata is the author of many books, including Convenience Store Woman, winner of the Akutagawa Prize. Murata has been named a Freeman's "Future of New Writing" author, and a Vogue Japan Woman of the Year.Ginny Tapley Takemori has translated works by more than a dozen Japanese writers, including Ryu Murakami. She lives at the foot of a mountain in Eastern Japan.