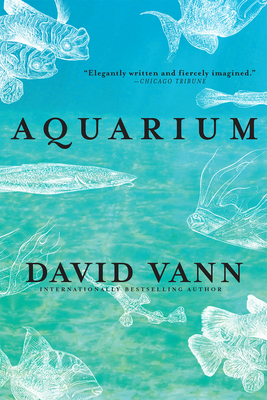 Staff Reviews
---
Caitlin is twelve, and while her single mother works long hours on the Seattle docks, she spends much time alone. She visits the aquarium every day after school to wait for her mother and to observe the fish she grows to identify with. The appearance there of an older man who befriends her sets off a series of staggering events that force Caitlin to question everything she understands about family, trust, love and forgiveness. Vann writes spare yet lyrical prose that underscores Caitlin's resiliency and strength. In this extraordinarily powerful novel, "What do we owe for what has come before us?" is answered with shocking consequences.
- Cindy
— From
Cindy's Recs 2
March '15 Indie Next List
---
"The world of the aquarium becomes a microcosm of a young girl's longings - some she can name, some she cannot - as her splintered family makes jagged efforts to reform itself. How kinship is expressed, both in the fish world and within 12-year-old Caitlin's difficult family, is at the heart of Vann's piercing and ultimately redemptive novel -- one that remains vivid long after the last page."
— Sheryl Cotleur, Copperfield's Books, Sebastopol, CA
Description
---
"Like Melville, Faulkner, and McCarthy, Vann is already one of the great ones of American literature."--ABC(Spain) "Vann's prose is as pure as a gulp of water from an Alaskan stream."--Financial Times David Vann's dazzling debut Legend of a Suicide was reviewed in over a 150 major global publications, won 11 prizes worldwide, was on 40 "best books of the year" lists, and established its author as a literary master. Since then, Vann has delivered an exceptional body of work, receiving, among others, best foreign novel in France and Spain (France's Prix Medicis Etranger, Spain's Premi Llibreter), a California Book Award, and the mid-career St. Francis College Literary Prize. Aquarium, his implosive new book and first to be published by Grove, will take Vann to a wider audience than ever before. Twelve year old Caitlin lives alone with her mother--a docker at the local container port--in subsidized housing next to an airport in Seattle. Each day, while she waits to be picked up after school, Caitlin visits the local aquarium to study the fish. Gazing at the creatures within the watery depths, Caitlin accesses a shimmering universe beyond her own. When she befriends an old man at the tanks one day, who seems as enamored of the fish as she, Caitlin cracks open a dark family secret and propels her once-blissful relationship with her mother toward a precipice of terrifying consequence. In crystalline, chiseled yet graceful prose, Aquarium takes us into the heart of a brave young girl whose longing for love and capacity for forgiveness transforms the damaged people around her. Relentless and heartbreaking, primal and redemptive, Aquarium is a transporting story from one of the best American writers of our time.