Servant of the Shard: The Legend of Drizzt (Mass Market)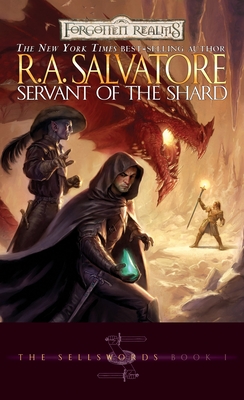 Other Books in Series
This is book number 14 in the The Legend of Drizzt series.
Description
---
New York Times–bestselling author: The much-awaited story of master assassin Artemis Entreri and the first installment in a new series set in the Forgotten Realms universe

Surrounded by dark elves, Artemis Entreri tightens his grip on the streets of Calimport. While he urges caution, his sponsor grows ever more ambitious. The assassin will soon find himself on a path his most hated enemy has walked before him—a path that leads to a place where someone like Entreri would never be welcome.
 
Drow leader Jarlaxle has ascended from dark Menzoberranzan with only civil intentions. The malevolent Crystal Shard's influence on him intensifies until even the drow agents he brought with him grow fearful. When his own company begins to turn on him, Jarlaxle will be forced to find a savior in the man he's come to enslave.
 
Servant of the Shard is the first book in the Sellswords trilogy and the fourteenth book in the Legend of Drizzt series
About the Author
---
R.A. Salvatore was born in Massachusetts in 1959. He is the New York Times–bestselling author of more than forty novels, including the popular Forgotten Realms series, The Legend of Drizzt. His love affair with fantasy, and with literature in general, began during his sophomore year of college when he was given a copy of J.R.R. Tolkien's The Lord of the Rings as a Christmas gift. He promptly changed his major from computer science to journalism. He began writing seriously in 1982, penning the manuscript that would become Echoes of the Fourth Magic.

His first published novel was The Crystal Shard from TSR in 1988, and his novel The Silent Bladewon the Origins Award. He is still best known as the creator of dark elf Drizzt Do'Urden, one of fantasy's most beloved characters.