3,001 Questions All About Me (Creative Keepsakes #1) (Paperback)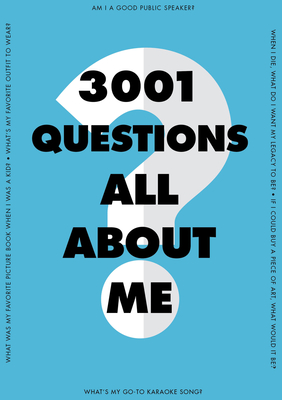 $9.99
Email or call for price/availability
Description
---
3,001 Questions All About Me is a journal for people who ask the big questions about themselves, like: What is your favorite Karaoke song?
Alright, so these questions aren't the big questions, but knowing yourself better is no small task. So much of what goes on in your brain happens in snap judgements and feelings. When you sit with the answers to quick questions and ruminate on what they mean, a deeper understanding of yourself can result.
With over 3,000 thoughtful prompts to help you journal through a quest for self-discovery, you can start to definitively know who you are by examining all of your favorite things. Thousands of questions for thousands of answers you never knew you needed. Some answers will not need more than a "yes" or "no" while others can possibly trigger a deeper need for journaling about yourself and your values.
Some such questions being:
If I had an imaginary friend as an adult, what would they be like?
Do I disguise my emotions well?
What is my definition of beauty?
If I wrote a memoir, what would it be called?
What habits do I want to cultivate?
Am I good at sports? Do I want to be?

If you are at a crossroads or are attempting to gain awareness of yourself through personal reflection, this is an excellent tool. Or, if you are a writer, use this as an exercise for fleshing out characters. This journal is also the perfect gift to a recent grad looking to carve out more of themselves in this expansive world.
Ask yourself a bunch of these small questions to receive big answers.

With so much of our lives and contact going digital, the Creative Keepsakes journals offer an intimate way to nurture your connection with yourself and the people around you. An entertaining way to get off your screen, these guided and free-form journals are great for writers and artists alike. Each journal offers content around a different theme, including silly prompts for a laugh, random yet thoughtful questions, inspiration for art and composition, interactive prompts to learn about your heritage, and blank interiors on high-quality paper stock to use as your creative canvas. Beautifully designed and full of mindful prompts, channel your inspiration as you put pen (or pencil, or marker, or crayon!) to paper to learn more about yourself, your talents, and the people you love. 
Also in this Series: 3,001 Would You Rather Questions, 3,001 This or That Questions, 301 Things to Draw, 301 Writing Ideas, Anti-Anxiety Journal, Complete the Drawing, Create a Poem, Create a Story, Create Comics: A Sketchbook, Design & Destroy, Forever Friends, Gratitude Journal, Inner Me, Inspired by Prayer, Internet Password Book, Mom & Me, My Family Story, My Father's Life, My Grandfather's Life, My Grandmother's Life, My Life Story, My Mother's Life, Our Love Story, Sermon Notes, Sketch - Large Black, Sketch - Large Kraft, Sketch - Medium Black, Sketch - Medium Kraft, This is Me, Write - Medium Black, Write - Medium Black
About the Author
---
Publishing and supplying books to wholesalers, mail order companies, and retail stores for over 60 years, Chartwell Books publishes across a wide range of subjects, including history, craft, home reference, puzzles and games, music and music instruction, art instruction, transportation, and more.