Turning Darkness Into Light (Paperback)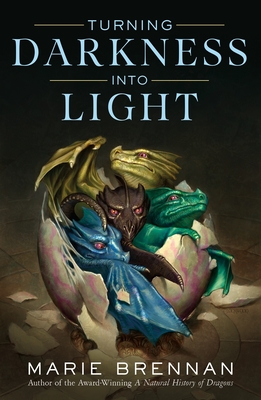 Description
---
Marie Brennan's Turning Darkness Into Light is a delightful fantasy of manners, the heir to the award-winning Natural History of Dragons series, a perfect stepping stone into an alternate Victorianesque fantasy landscape.

"Overwhelmingly fun."—io9 on The Tropic of Serpents

As the renowned granddaughter of Isabella Camherst (Lady Trent, of the riveting and daring Draconic adventure memoirs) Audrey Camherst has always known she, too, would want to make her scholarly mark upon a chosen field of study.

When Lord Gleinheigh recruits Audrey to decipher a series of ancient tablets holding the secrets of the ancient Draconean civilization, she has no idea that her research will plunge her into an intricate conspiracy, one meant to incite rebellion and invoke war. Alongside dearest childhood friend and fellow archeologist Kudshayn, Audrey must find proof of the conspiracy before it's too late.
About the Author
---
Marie Brennan is Professor of Education at Victoria University, Australia, and a former Dean of Education at the University of South Australia. She is currently leading the final year of a major Australian Research Council grant (LP100200499) Renewing the teaching profession in regional areas through community partnerships and participating in the Australian study of the Work of Teacher Educators (WOTE).
Praise For…
---
Praise for Marie Brennan and The Memoirs of Lady Trent Series

"These chronicles have the power of fabulous and historic voyages, along with a wry wit that refuses to accept the standard notions of any era—past, present, or future."—Locus on The Memoirs of Lady Trent series

"Isabella, Lady Trent, narrates her astounding adventures from volume to volume, blending Victorian pastiche and alternate-world fantasy with a distinctly pulp sensibility…now is the time to get acquainted."—NPR on The Voyage of the Basilisk

"This mix of scientific and [fantastic] remains in fine form." —Publishers Weekly, on In the Labyrinth of Drakes

"Smart and nuanced...Overwhelmingly fun and a perfectly delightful [summer] read."—io9 on The Tropic of Serpents

"Uncompromisingly honest and forthright [and] narrated in Brennan's usual crisp, vivid style.... Reader, lose no time in making Isabella's acquaintance." —Kirkus Reviews (starred review), on The Tropic of Serpents

"If you've ever secretly wished dragons were real, this story is for you. Fans of Naomi Novik and Mary Robinette Kowal will especially enjoy this book." —RT Book Reviews on A Natural History of Dragons

"Discoveries about the connections between dragons and humans mix with bone-punk technology, and revelations crash like waves in a satisfying conclusion." —Publishers Weekly on Voyage of the Basilisk

"Told in the style of a Victorian memoir, courageous, intelligent and determined Isabella's account is colorful, vigorous and absorbing."—Kirkus Reviews, on A Natural History of Dragons

"Saturated with the joy and urgency of discovery and scientific curiosity."—Publishers Weekly, (starred review), on A Natural History of Dragons