Field Guide to Outside Style: Design and Plant Your Perfect Outdoor Space (Hardcover)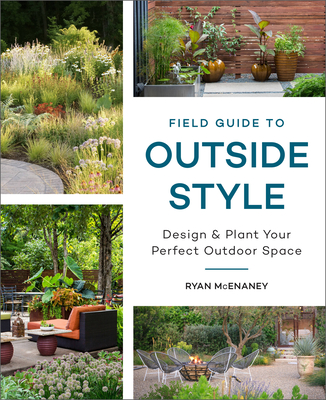 $30.00

Usually Ships in 1-5 Days
Description
---
Make your outdoor space as comfortable and personal as the inside of your home with garden design and planting guidance from Field Guide to Outside Style.
Maybe you've just purchased your first home or you have an existing outdoor space that's overgrown and old-fashioned, and you want to
turn it into a place that blends perfectly with your sense of style and your life
. But where should you start? How can you be sure to
create a space you can sustain
?
Field Guide to Outside Style
leads the way. You'll learn to
personalize your outdoor living space
with the right plants, furnishings, and other design elements to create
a space that reflects YOU perfectly
, even if you've never sunk a shovel into the soil before.
The word "gardening" can be intimidating if you aren't used to digging in the dirt, yet you want
a gorgeous outdoor living area you feel proud of
. Author and outdoor living pro Ryan McEnaney helps you make it happen by meeting you where you are. He cuts out the intimidating stuff, doesn't use scary terms, and supports you through the entire process.  
Start with what you already love. Learn how to translate your choices in clothing, colors, furniture, and architecture into an understanding of how to design your outdoor areas.
Next, set parameters and expectations. Learn how to plan smartly so you don't get in over your head. 
Then, select your aesthetic. Decide which of three primary outdoor design styles—the classic, the modernist, and the naturalist—suit you best and use easy-to-digest, mix-and-match design suggestions and recipes to create an outdoor living area of your dreams.
Plus, see your options in action. Through case studies accompanied by before-and-after illustrations of outdoor rehab projects, you'll walk away with a clear understanding of the options for you and your space.
Close the book confident in your ability to
select plants and design concepts that work in your region, fit within your abilities, and ultimately match the rest of your life
perfectly. And to sweeten the deal, the
long-term success
of your new outdoor space is supported by
information on seasonality, sticking to a budget, and creating a balanced space
to ensure your newly discovered outside style shines for many years to come.
About the Author
---
Ryan McEnaney is a fifth-generation family member and owner at Bailey Nurseries, a 115-year-old nursery headquartered outside of St. Paul, Minnesota. The company has grown to be one of the largest producers of shrubs and trees in the United States. McEnaney oversees public relations and social media for the brands and serves as their national consumer spokesperson. To support this, he has been quoted in publications such as Real Simple, Better Homes & Gardens, and Martha Stewart Living; has appeared on television throughout the United States; and travels the country educating homeowners on how to be successful in the garden. His approach revolves around fun, breaking down barriers to gardening, and creating a welcoming space to collaborate. 
 
McEnaney currently serves on the Board of Directors for the National Garden Bureau, as well as multiple committees for GardenComm: The Association for Garden Communicators, Seed Your Future, AmericanHort, and the Minnesota Nursery & Landscape Association.
Praise For…
---
"McEnaney's field guide is blooming with fun, fresh ideas to make any outdoor space come alive! As so many of us look to our homes as a happy haven, it's time to transform that yard into a sanctuary. Now you can!"
 —Meaghan B Murphy, author Your Fully Charged Life, editor-in-chief Woman's Day, on-air lifestyle expe

"Finally, a garden book that doesn't intimidate non- and new gardeners!  Creative, fun—and easy — ideas to understand your space and make it work beautifully for you!"
 —Liz Vaccariello, editor-in-chief, PEOPLE

"Whether your garden style is formal elegance, a bit naturalist, or total wild child, trust the practical know-how of Ryan McEnaney in his new Field Guide to Outside Style. With his specific tips and cheerful you-too-can-have-the-garden-of-your-dreams attitude, reading Ryan's words feels like making a new plant-loving friend whose advice you'll always seek."
 —CJ Lotz, senior editor, Garden & Gun

"Ryan has a kind, patient way of making the complexities of gardening feel straightforward for any level of gardener. In this book, he assigns personalities to gardening styles (turns out I'm a Martha with a little Kelly influence) and provides recipe cards based on your corresponding garden personality. He's truly taken the guesswork out of gardening!"
 —Rachel Weber, editorial director, Better Homes & Gardens

 "Ryan's roots in the garden business run as deep as his knowledge in all things plants and flowers. Field Guide to Outside Style dives deep into the nitty-gritty details and technical aspects that all successful gardeners need to know. But, at its core, it encourages you to have a personal relationship with your garden and to make sure you fall in love every time your fingers hit the dirt. I can't wait to go on a date with my backyard!"  

 —Emily Kehe, creative director, Real Simple

"This book helps the homeowner understand not just their needs but also their tastes while realistically circling back to discuss the less than sexy things like maintenance, long-term goals, and budget. He does all this with humor – yet his fun assignments and rhetoric are spot on and essential to a successful outcome. Don't skip these chapters!"—Le Jardinet

"Whether you are new to owning a home or in a new garden or just ready to embrace your outside style more fully, McEnaney is a friendly, helpful guide to have at your side."—Northern Gardener

"New homeowners, novice gardeners and gardening downsizers alike will find helpful advice in Ryan McEnaney's Field Guide to Outside Style, a truly unique take on DIY garden design. This is a fun-to-read, easy-to-follow book that provides a solid introduction to planning outdoor spaces while fostering a deep appreciation of plants.Field Guide to Outside Style is a truly useful book for the do-it-yourselfer, but McEnaney never forgets to keep it fun."—Horticulture Magazine