Stuck in the Middle: A Story About Separation (Difficult Conversations) (Hardcover)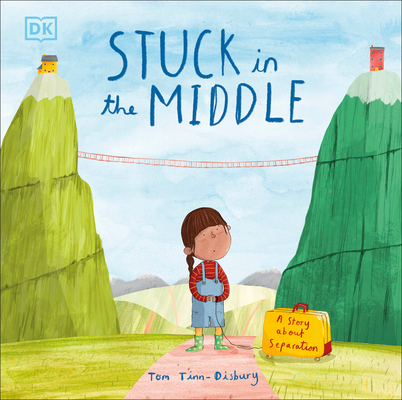 $16.99

Usually Ships in 1-5 Days
Description
---
A touching story that introduces children to separation, following the challenges a family face going through a divorce. 

Divorce and separation can be hard on any family and a difficult topic for children to understand, including Tilly. Tilly lives in the mountains with her mummy and daddy. She loves it – there are beautiful views and lots of space to play. The only downside is that she lives some of the time with Mummy on one mountain and the rest of the time with Daddy on another. 

Even though their mountains are joined by a bridge, Tilly isn't allowed to use it. Instead, Tilly has to walk all the way down one mountain and trek up the next to get between the two houses, which makes her extremely tired and makes her wish that they all lived together. One day, when upset, Tilly decides to fix the old, wobbly bridge in the hope that it will fix her family. Will she succeed?

This touching story for children aged 3-5 features:

- The charming narrative of this book differs from the typically intense and institutional approach to the topic.
- Beautiful, immersive illustrations that engage the young readers in the story.
- A large format makes it perfect for adults and children to read together.
- Two non-fiction pages that teaches families about how to approach this difficult conversation.
- One page of professional advice and tips for parents and adults.

This moving and sensitively-written story gently introduces children to family separation and teaches them how to deal with the emotions surrounding divorce. Beautiful illustrations allow children to immerse themselves in the book, alongside the informative and charming narrative which provides a gentle approach to this sensitive subject. 

The second book in Tom Tinn-Disbury's Difficult Conversations series, Stuck in the Middle is ideal for adults and children to share and perfect for starting a difficult conversation with a little one.

At DK, we believe in the power of discovery.

So why stop there?

The Difficult Conversations series gently introduces sensitive topics to help children understand them a little better. Stuck in the Middle is the second book in the series, so why not try Lost in the Clouds, a gentle story to help children understand the difficult topic of grief.
About the Author
---
Tom Tinn-Disbury is an experienced illustrator who started his career in film and animation before concentrating on his art. He has written and illustrated a number of picture books, including The Caveman Next Door, My Summer With Grandad, and the first book in this series, Lost in the Clouds.

Consultant: Dr. Angharad Rudkin is a Clinical Psychologist who has worked with children and families for over 20 years. She is a lecturer at the University of Southampton and works with many young people who are having a difficult time. She has written and contributed to multiple books that aim to help young people and their families, including Split Survival Kit, What's My Child Thinking, and Find Your Girl Squad.