Christmas Is Coming: Traditions from Around the World (Hardcover)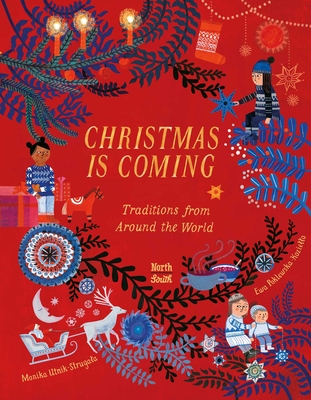 $25.00

Usually Ships in 1-5 Days
Description
---
The perfect book for long wintery evenings—not just under the Christmas tree!


Why do we decorate Christmas trees? Do all children receive gifts on the same day?

Come find out as Monika Utnik captures the smells, tastes, and unforgettable traditions about the most popular, exciting, contemplative, and unique Christmas customs and legends from around the world. Find out why celebrate Christmas on December 25th, who invented the first glass ornament, why people build nativity scenes, and more!

A truly international collection of legends and traditions are included in the volume such as - Glögg, Kutia, Lutefisk, Jansson's Temptation, Julskinka, Bûche de Noël, Hallaca, Kourabiedes, Christmas Pudding, Panettone, Christmas carols, talking animals, and The Nutcracker!

With the atmospheric illustrations by Ewa Poklewska-Koziello, this is an ideal companion for the Christmas season.
About the Author
---
Monika Utnik studied Romance Studies at the University of Warsaw in Poland and is a lifestyle and design journalist. She made her debut with a children's book about Italian culture. In Italy she likes to spend her free time in her beloved country house.

Ewa Poklewska-Koziello was born and raised in Gdansk, Poland. There she studied architecture. She prefers to paint, especially for children. She illustrated dozens of books and magazines for children

Antonia Lloyd-Jones is a British translator of Polish literature based in London. She is best known as the long-time translator of Olga Tokarczuk's works in English, including Drive Your Plow Over the Bones of the Dead which was shortlisted for the International Booker Prize in 2019. Other recent awards include: ZAiKS prize for translation into English, 2017; Transatlantyk Award for the best promoter of Polish literature abroad, 2018; Gloria Artis silver medal awarded by the Polish Ministry of Culture for contribution to culture, 2019.
Praise For…
---
Adding a fitting charm to the fascinating details are stylized illustrations with folk art colors and patterns from the represented countries and cultures. A merry offering, indeed
— Booklist

In thirty-nine sections consisting of a few pages each, plus a glossary, readers are provided with a wealth of information
about religious and secular Christmas (and some New Year) traditions celebrated around the world. Some occur in just
one country (the Christmas lottery in Spain), while others (the festival of Saint Nicholas's Day) are more widespread, so
Utnik-Strugala organizes the book by topic rather than by geography; a table of contents makes it easier to browse. The text, lengthy but conversational, is full of illuminating facts about decorations, foods, festivals, and more. Poklewska-
Koziello's highly colorful and detailed illustrations depict an ethnically diverse cast of people from the various cultures described.
— The Horn Book

....perfect for a spirited storytime!
— Atlanta Parent

An international collection of legends, histories, traditions, and celebrations from around the world is included in this beautifully illustrated and detailed book.
— OmniLibros