Charles Dowding's Veg Journal: Expert no-dig advice, month by month (Paperback)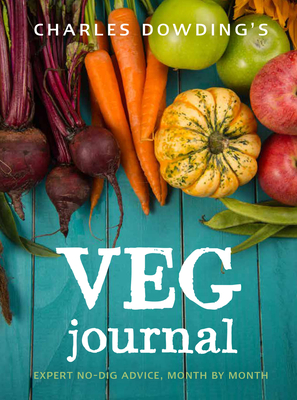 $14.99
Email or call for price
Description
---
Charles Dowding, the UK's leading no-dig guru shows how to grow a year's worth of healthy, organic crops while preserving the soil's integrity. Using seasonal checklists and expert no-dig advice, this month-by-month journal helps you plan bumper harvests the no-dig way. From tomatoes to basil, carrots to coriander, follow simple steps to find success with growing more than 35 vegetables and herbs. Start a no-dig vegetable plot on virgin or dug ground, improve the soil and become an expert mulcher and weeder, as well as learning the techniques for intercropping, companion planting, seed viability and crop succession.
This easy-to-follow step-by-step guide by one of Britain's top gardeners is illustrated with photos to help you learn how to plan a vegetable garden, construct a raised bed, sow seed indoors and outdoors in spring, grow on young crops, protect plants from the weather and pests through the season and, finally, celebrate the joy of harvesting. Organised monthly from January to December, this journal is full of key dates for sowing, staking, harvesting and storing, as well as time-saving monthly checklists to help ensure a successful no-dig harvest.
About the Author
---
CHARLES DOWDING grew up on a dairy farm in Somerset. After graduating from Cambridge he worked for a hotel in the Inner Hebrides before starting to grow organic vegetables commercially on the family farm in the early 1980s. In 1990 he left behind what was by then a large market garden to live in France and Zambia. Returning to Somerset in the mid 1990s, he established a bed and breakfast and vegetable growing business at Lower Farm in Shepton Montague, Somerset. There, Charles's salad bags were the main output from his two-acre garden of permanent raised beds and fruit trees. Charles runs vegetable-growing courses and lectures and writes books on his unique growing techniques. Since 2012 Charles has begun a new garden at Shepton Mallet in Somerset which he has designed using no-dig principles.
Praise For…
---
'Charles' journal is a good aide memoire, peppered with tidbits of useful information and a blank, lined page per month encourages you to use the book as a diary. We always assume it's our fault when we have a failure, but this might not always be the case. Keeping records is vital, especially if you are a progressive gardener, who is always trying different spacings, varieties and techniques.'
'A useful addition to your bookshelf'
'Charles' journal is a good aide memoire, peppered with tidbits of useful information and a blank, lined page per month encourages you to use the book as a diary. We always assume it's our fault when we have a failure, but this might not always be the case. Keeping records is vital, especially if you are a progressive gardener, who is always trying different spacings, varieties and techniques.'
'A useful addition to your bookshelf'
'This is a sensible and very clearly presented book for those who want to tackle the art of no-dig gardening without being bamboozled by jargon. You will definitely have a clear understanding of the technique after following this guide through the year'
'This is such a lovely, lovely gardening book.'