Ramona la chinche: Ramona the Pest (Spanish edition) (Paperback)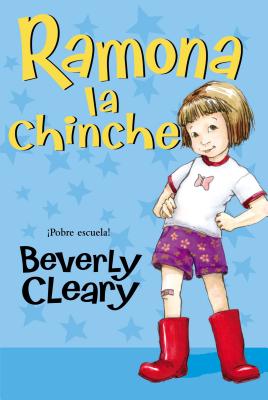 $7.99

Usually Ships in 1-5 Days
Other Books in Series
This is book number 2 in the Ramona series.
Description
---
This high-quality Spanish-language book can be enjoyed by fluent Spanish speakers as well as those learning the language, whether at home or in a classroom.
Ramona Quimby está emocionada por empezar Kindergarten. Ahora no tiene que ver a su hermana mayor, Beezus, montarse en el autobús a la escuela con todos los niños grandes.
¡Ella finalmente es suficiente mayor para hacerlo también! Después ella se mete en problemas por hallar el pelo rizado de su compañero de clase durante el recreo. Peor, el niño que le gusta le rechaza en frente de todo la clase. Beezus dice que Ramona necesita dejar de ser una chinche, pero ¿cómo puede dejarlo si nunca estaba tratando hacer una chinche para empezar?
La ganadora del Newbery Award, la escritora Beverly Cleary expertamente representa las tribulaciones y triunfos de crecer por una heroína relacionable: Ramona Quimby.
About the Author
---
Beverly Cleary is one of America's most beloved authors. As a child, she struggled with reading and writing. But by third grade, after spending much time in her public library in Portland, Oregon, she found her skills had greatly improved. Before long, her school librarian was saying that she should write children's books when she grew up.
Instead she became a librarian. When a young boy asked her, "Where are the books about kids like us?" she remembered her teacher's encouragement and was inspired to write the books she'd longed to read but couldn't find when she was younger. She based her funny stories on her own neighborhood experiences and the sort of children she knew. And so, the Klickitat Street gang was born!
Mrs. Cleary's books have earned her many prestigious awards, including the American Library Association's Laura Ingalls Wilder Award, presented to her in recognition of her lasting contribution to children's literature. Dear Mr. Henshaw won the Newbery Medal, and Ramona Quimby, Age 8 and Ramona and Her Father have been named Newbery Honor Books. Her characters, including Beezus and Ramona Quimby, Henry Huggins, and Ralph, the motorcycle-riding mouse, have delighted children for generations.
Jaqueline Rogers has been a professional children's book illustrator for more than twenty years and has worked on nearly one hundred children's books.