The Man On Whom Nothing Was Lost: The Grand Strategy of Charles Hill (Paperback)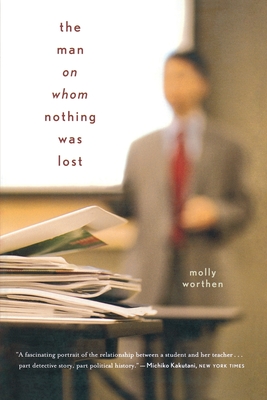 Description
---
Psychologically astute and passionately written, Molly Worthen's remarkable debut charts the intricate relationship between student and teacher, biographer and subject. As a Yale freshman, Worthen found herself deeply fascinated by worldly-wise professor Charles Hill, a former diplomat who had shaped American foreign policy in his forty-year career as an adviser to Henry Kissinger, George Shultz, and Boutros Boutros-Ghali, among others. Hill was never afraid to tell students how to think or what to do, and the Grand Strategy seminar he co-taught had developed a cult following.

The Man on Whom Nothing Was Lost is at once the biography of a political insider and the story of how its author evolved as she wrote it. In a moving, highly original work, Worthen conveys the joy and the heartache of uncovering the human being behind one's idol.
About the Author
---
MOLLY WORTHEN graduated from Yale University in 2003. She received the Ellsworth Prize for most distinguished senior essay in the humanities, the Schubart Prize for best original published work, the David C. DeForest/ Townsend Premium Prize for oration, and the Kingsley Fellowship for the study of Russian Orthodox Old Believers in Alberta. She has written for the Yale Daily News, the Toledo Blade, the Dallas Morning News, and Time. Her interests include cartoon illustration, fly fishing, and improvisational comedy. She is also a national championship debater. This is her first book.
Praise For…
---
"This is one of the most artful biographies I've read....compelling...told with the language and sensitivity of a novelist." --John B. Judis, Senior Editor of The New Republic and author of The Folly of Empire and The Paradox of American Democracy

"Engrossing...I highly recommend it." --Henry Kissinger

"What a fascinating and compelling book!" --Walter Isaacson, author of Benjamin Franklin: An American Life

"Worthen deftly describes the impact that [Charles Hill] had on U.S. foreign policy. . .[with] skill, psychological insight and compassion." --Anne Bartlett Bookpage

"Worthen is a beautiful writer, always clear and comprehensive....[her] work is nuanced, reasonable, and thoughtful." --Michael D. Langan Buffalo News

"The Man on Whom Nothing Was Lost...is a laudable and illuminating achievement." --Trey Popp The San Francisco Chronicle

"[A] subtle, penetrating, and completely absorbing portrait." --Daniel Akst Boston Globe

"[A] portrait of a fascinating, deeply human man and a girl grown up." --Karen R. Long Cleveland Plain Dealer

"History buffs will delight...Worthen [has] a good sense for metaphor and a tangible zest for her subject." --Sarah Bramwell, National Review

"Fascinating...It is a story that often reads like a combination of Philip Roth's 'Ghost Writer' and A.S. Byatt's 'Possession.'" --Michiko Kakutani The New York Times

"Strangely passionate...an oddly touching and rewarding read." --Christopher Willcox New York Sun —