Girls Who Green the World: Thirty-Four Rebel Women Out to Save Our Planet (Hardcover)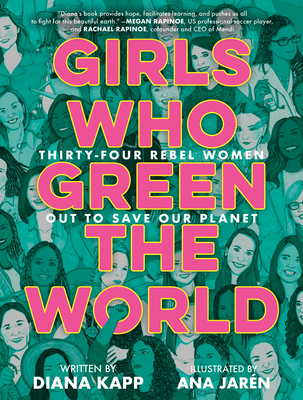 $19.99

Usually Ships in 1-5 Days
Description
---
Part biography, part guidebook to the contemporary environmental movement, this book is the perfect gift for future and current activists and changemakers! Girls Who Green the World features the inspiring stories of 34 revolutionaries fighting for our future!

An inspired collection of profiles, featuring environmental changemakers, social entrepreneurs, visionaries and activists.

Journalist Diana Kapp has crisscrossed this country writing for and about empowered girls, girls who expect to be leaders, founders and inventors. This book takes it a step further. It says to girls: while you're striving to be CEOs and world leaders, consider solving the biggest challenge of our lifetime, too—because you can do both at the same time, and here are 34 women doing just that.
About the Author
---
Diana Kapp is a business journalist with an MBA from Stanford University who has written about education and entrepreneurism for most of the major media outlets. She is also the author of Girls Who Run the World. You can find her online at dianakapp.com.
Praise For…
---
Praise for GIRLS WHO GREEN THE WORLD:

Shortlisted for the 2023 Green Earth Book Award!

A 2023 Children's Book Council Favorites Pick!

★ "The usefulness and timeliness of this book cannot be overstated. Committed young activists and entrepreneurs will grab this fascinating read like a lifeline."—School Library Journal, starred review

"A celebration of women who are devoted to reducing the impact of climate change in a variety of creative ways."—Kirkus

"Girls who Green the World shows how brave girls who pay attention have launched ideas and organizations that may very well save us all."—Jane Fonda, actor, political activist, and environmentalist

"There is no Plan B for this planet. Diana's book provides hope, facilitates learning, and pushes us all to fight for this beautiful earth. We all have a role to play. Fight on!"—Megan Rapinoe, US professional soccer player, and Rachael Rapinoe, co-founder and CEO, Mendi

"There is no precise mold you need to fit in to be a changemaker. The powerful and innovative women whose stories are so thoughtfully brought together in Girls Who Green the World show that no matter what your background is or what spurs you to action, you can make a difference. I hope readers young and old find inspiration in the work of these 34 incredible leaders and join the fight for a greener and more sustainable planet."—Former Vice President Al Gore

"Girls Who Run the World is exactly the can-do, hopeful book we need right now to promote youth action on our climate crisis. We need this infusion of hopeful, motivating energy because we cannot afford to wait to act. With climate change, we are facing down a dire issue of human rights, justice, gender equity, and the future of our planet."—Mary Robinson, Former UN High Commissioner for Human Rights and first female president of Ireland

"Girls Who Green the World is a compelling read about intrepid explorers and solution-seekers, driven by a fierce determination to advance our understanding of the world and change it for the better. They each saw possibilities to make a meaningful difference for our planet and chose to pursue them with fearlessness and fortitude. In doing so, the stories of these remarkable women motivate, educate and inspire."—Jill Tiefenthaler, CEO, National Geographic Society

"I've had the privilege of knowing many of these remarkable women, and this book not only tells their remarkable stories, it captures their remarkable spirit."—Bill McKibben, author of The End of Nature

"Girls Who Green the World is a manifesto for those who want to get to work on solutions. A positive and hopeful book about all the ingenuity and creative thinking already happening to fight back climate change."—Arianna Huffington, Founder & CEO, Thrive