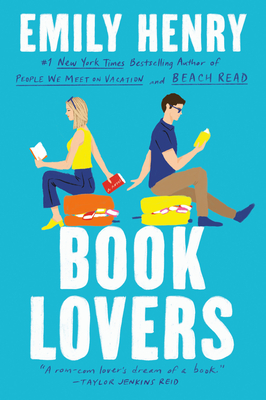 $17.00

Usually Ships in 1-5 Days
Staff Reviews
---
Nora Stephens is a shark. Not really, but she is a seriously fierce literary agent who puts her clients above everything except her younger sister. So, when Libby pleads with Nora to take a whole month vacation, Nora accepts in an effort to heal the rift that has been growing between them. Libby has everything planned out with a "romance novel worthy" to-do list, but that did not account for Nora's arch-nemesis from the book world to be on vacation with them. Will Charlie ruin everything Nora and Libby are trying to fix, or will he make the list?
-Clare
— From
Clare's Recs
May 2022 Indie Next List
---
"This book is perfect. I was so happy to see Emily Henry return to enemies-to-lovers. Dare I say it, Book Lovers is even better than Beach Read! The editor vs agent drama, the small-town checklist, and god, the steamy scenes — read this book!"
— Michelle Stiles, Magers & Quinn Booksellers, Minneapolis, MN
Description
---
"One of my favorite authors."—Colleen Hoover

An insightful, delightful, instant #1 New York Times bestseller from the author of Beach Read and People We Meet on Vacation.

Named a Most Anticipated Book of 2022 by Oprah Daily ∙ Today ∙ Parade ∙ Marie Claire ∙ Bustle ∙ PopSugar ∙ Katie Couric Media ∙ Book Bub ∙ SheReads ∙ Medium ∙ The Washington Post ∙ and more!

One summer. Two rivals. A plot twist they didn't see coming...

Nora Stephens' life is books—she's read them all—and she is not that type of heroine. Not the plucky one, not the laidback dream girl, and especially not the sweetheart. In fact, the only people Nora is a heroine for are her clients, for whom she lands enormous deals as a cutthroat literary agent, and her beloved little sister Libby.

Which is why she agrees to go to Sunshine Falls, North Carolina for the month of August when Libby begs her for a sisters' trip away—with visions of a small town transformation for Nora, who she's convinced needs to become the heroine in her own story. But instead of picnics in meadows, or run-ins with a handsome country doctor or bulging-forearmed bartender, Nora keeps bumping into Charlie Lastra, a bookish brooding editor from back in the city. It would be a meet-cute if not for the fact that they've met many times and it's never been cute.

If Nora knows she's not an ideal heroine, Charlie knows he's nobody's hero, but as they are thrown together again and again—in a series of coincidences no editor worth their salt would allow—what they discover might just unravel the carefully crafted stories they've written about themselves.
About the Author
---
Emily Henry is the #1 New York Times bestselling author of People We Meet on Vacation and Beach Read. She studied creative writing at Hope College, and now spends most of her time in Cincinnati, Ohio, and the part of Kentucky just beneath it. Find her on Instagram @emilyhenrywrites.
Praise For…
---
[Book Lovers] is multilayered and the characters' familial challenges are complex. By both playing to and overtly subverting romance tropes and archetypes like the high-powered big city woman who neglects her family and the life-affirming power of small-town life, this novel delivers an insightful comedic meditation on love, family and going your own way."—NPR

"If Emily Henry makes herself laugh at the character's dialogue in her own books, it's understandable. She is a master at witty repartee….It's a safe bet that viewers would enjoy seeing Henry's characters come to life on screen."—Associated Press

"It is humanly impossible for Emily Henry to write a bad book. Her particular blend of grief and messy relationships is a heady cocktail of intoxicating yearning…Whatever Henry decides to spear, be it literary posturing or vacation rom-com, she subverts her subjects in the most delicious ways."—Entertainment Weekly

"Book Lovers is a treat from start to finish, flipping the conventional small-town love story trope on its head…This enemies-to-lovers novel is a quick and satisfying binge-read."—USA Today

"One of my favorite authors."
—Colleen Hoover, #1 New York Times bestselling author

"Book Lovers is a rom-com lover's dream of a book. It is razor-sharp and modern, featuring a fierce heroine who does not apologize for her ambition and heartfelt discussions of grief. Readers know that Emily Henry never fails to deliver great banter and a romance to swoon over but this may just be her best yet. A breath of fresh air." 
—Taylor Jenkins Reid, New York Times bestselling author of Malibu Rising

"I would follow Emily Henry anywhere. A small town, a literary enterprise, a bookstore to rescue, and sex in moonlit streams? Yes, please! Book Lovers is sexy, funny, and smart. Another perfectly satisfying read from the unstoppable Emily Henry." 
—Emma Straub, New York Times bestselling author of All Adults Here

"Emily Henry's books are a gift, the perfect balance between steamy and sweet. The prose is effortless, the characters charming. The only downside is reaching the end." 
—V.E. Schwab, New York Times bestselling author The Invisible Life of Addie LaRue

"Charming, earnest, and clever, Book Lovers is Schitt's Creek for book nerds. A total delight for anyone who's ever secretly rooted for the career girl in a Hallmark movie. Nobody does it quite like Emily Henry."  
—Casey McQuiston, New York Times bestselling author of One Last Stop

"You KNOW I love a book—and a writer—when I bust out my trusty ballpoint and absolutely maul the pages...and that's exactly what I just did to the divine Emily Henry. I could not devour Book Lovers fast enough. Emily Henry is pure delight. I'm utterly enchanted by her wry, self-aware sense of humor, the relish that she brings to every cleverly crafted sentence, and her irrepressible love for love."
—Katherine Center, New York Times bestselling author of Things You Save in a Fire and How to Walk Away

"Emily Henry writes romantic comedy with such sass and humour, she has that gift for making you laugh and cry within the space of a few sentences. Not to mention the sizzling chemistry! Her characters fizz like good champagne, they leap off the page and into your heart."
—Josie Silver, New York Times bestselling author of One Night on the Island

"Magical, delightful, and utterly one of a kind: Emily Henry's writing is a gift to the world. I've loved every single one of her books more than the previous, to the point that I cannot wait to see what her next title will do to me!"
—Ali Hazelwood, New York Times bestselling author of The Love Hypothesis

"Book Lovers is the perfect title for this utterly romantic read featuring two book industry insiders with crackling chemistry. Heartfelt, funny, and full of joy, Emily Henry's latest is packed with surprising twists and turns that keep you rooting for Nora and Charlie, every step of the way. (Also, three cheers for Nora's super-relatable bangs journey!)"
—Tia Williams, New York Times bestselling author of Seven Days in June

"When I read an Emily Henry novel I always feel a particularly undignified kind of jealousy, because I wish I'd written it. Book Lovers is no different: I loved every page, every line. It's so smart, so funny and so sexy. Nora and Charlie have sizzling chemistry—they even make discussing a contract hot. Readers are going to fall head over heels for these two."
— Beth O'Leary, International bestselling author of The No-Show

"[P]erfect-for-summer rom com."—Parade

"Brimming with swoon-worthy moments, hilarious banter, and lovable characters…"—Women's World

"[A] fun and flirty romance"—Cosmo

"Book Lovers uses classic romance tropes with purpose and intention, offering readers a satisfying romance unto itself, while also reflecting on why romance novels are so enticing to begin with…a smart, charming and dazzling book."—Shelf Awareness