Forty Words for Love (Hardcover)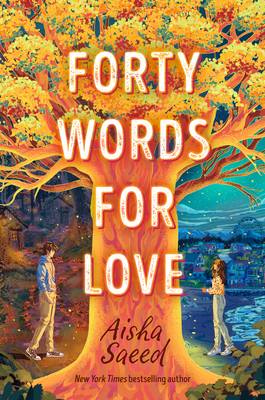 Description
---
In this tender genre-bending young adult novel by New York Times bestselling author Aisha Saeed, two teen protagonists grow from friends to something more in the aftermath of a tragedy in their magical town.

Moonlight Bay is a magical place—or it was once. After a tragic death mars the town, the pink and lavender waters in the bay turn gray, and the forest that was a refuge for newcomers becomes a scourge to the townspeople. Almost overnight, the entire town seems devoid of life and energy. The tourists have stopped coming. And the people in the town are struggling.

This includes the two teens at the heart of our story: Yasmine and Rafay. Yasmine is a child of the town, and her parents are trying and failing to make ends meet. Rafay is an immigrant, a child of Willow Forest. The forest of Moonlight Bay was where people from Rafay's community relocated when their home was destroyed. Except Moonlight Bay is no longer a welcoming refuge, and tensions between the townspeople and his people are growing.

Yasmine and Rafay have been friends since Rafay first arrived, nearly ten years ago. As they've gotten older, their friendship has blossomed. Not that they would ever act on these feelings. The forest elders have long warned that falling in love with "outsiders" will lead to devastating consequences for anyone from Willow Forest. But is this actually true? Can Yasmine and Rafay find a way to be together despite it all?
About the Author
---
Aisha Saeed (aishasaeed.com) is the author of the New York Times bestseller Amal Unbound, Written in the Stars, Yes No Maybe So (with Becky Albertalli), and Diana and the Island of No Return, and is a Pakistani American writer, teacher, and attorney. She has been featured on MTV, the Huffington Post, NBC and the BBC. As one of the founding members of the We Need Diverse Books Campaign, she is helping change the conversation about representation in literature. Aisha lives in Atlanta, Georgia, with her husband and sons.
Praise For…
---
"Filled with Aisha Saeed's dazzling writing and profound insight into the human heart, Forty Words for Love is a tale of shimmering magic and searing heartbreak, a story of unexpected adversaries and surprising allies, and an unforgettable romance that's equal parts gentle and powerful."
—Anna-Marie McLemore, author of National Book Award longlist selection Self-Made Boys