Symphony of Secrets: A novel (Hardcover)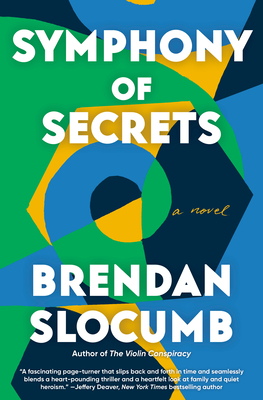 Staff Reviews
---
Bern Hendricks is a music professor and a massive fan of composer Fredrick Delany. Delany has all but fallen out of popularity, but his early music is very well respected, and Bern is one of the top experts in Delany's music. Bern has now been given the call of a lifetime, to head the authenticating of Delany's infamous lost opera! But, while working with the lost opera, Bern learns some untold truths about Delany's work and another composer that had been forgotten to the ages. This book is such a wonderful and exciting read for anyone interested in all music, and it is a study in the erasure of black and female composers.
-Zach
— From
Zach's Recs
Description
---
A gripping page-turner from the celebrated author of book club favorite The Violin Conspiracy: Music professor Bern Hendricks discovers a shocking secret about the most famous American composer of all time—his music may have been stolen from a Black Jazz Age prodigy named Josephine Reed.

Determined to uncover the truth that a powerful organization wants to keep hidden, Bern will stop at nothing to right history's wrongs and give Josephine the recognition she deserves.

"A maestro of musical mystery...Slocumb's writing is invigorating, and the detail in his character work makes the main characters in both time periods easy to root for.... Thrilling." —The New York Times

"At once a celebration of music and also a cautionary tale about legacy, privilege, and creative genius." —Nita Prose, #1 New York Times bestselling author of The Maid

Bern Hendricks has just received the call of a lifetime. As one of the world's preeminent experts on the famed twentieth-century composer Frederick Delaney, Bern knows everything there is to know about the man behind the music. When Mallory Roberts, a board member of the distinguished Delaney Foundation and direct descendant of the man himself, asks for Bern's help authenticating a newly discovered piece, which may be his famous lost opera, RED, he jumps at the chance. With the help of his tech-savvy acquaintance Eboni, Bern soon discovers that the truth is far more complicated than history would have them believe.

In 1920s Manhattan, Josephine Reed is living on the streets and frequenting jazz clubs when she meets the struggling musician Fred Delaney. But where young Delaney struggles, Josephine soars. She's a natural prodigy who hears beautiful music in the sounds of the world around her. With Josephine as his silent partner, Delaney's career takes off—but who is the real genius here?

In the present day, Bern and Eboni begin to uncover more clues that indicate Delaney may have had help in composing his most successful work. Armed with more questions than answers and caught in the crosshairs of a powerful organization who will stop at nothing to keep their secret hidden, Bern and Eboni will move heaven and earth in their dogged quest to right history's wrongs.
About the Author
---
Brendan Nicholaus Slocumb was raised in Fayetteville, North Carolina, and holds a degree in music education (with concentrations in violin and viola) from the University of North Carolina at Greensboro. For more than twenty years he has been a public and private school music educator and has performed with orchestras throughout Northern Virginia, Maryland, and Washington, DC.
Praise For…
---
One of the Washington Post's Best Mysteries of the Year • An NPR Best Book of the Year

"Brendan Slocumb's first novel, The Violin Conspiracy, displayed his deftness at crafting character-driven stories featuring amateur sleuths with a deep reverence for music history — and everything to lose. With his pitch-perfect follow-up, Symphony of Secrets, he firmly establishes himself as a maestro of musical mystery. . . . What makes the book sing is how it makes audible the chords that echo between present and past, coming together to create a consonant harmony. Slocumb dexterously interlaces the two plotlines, using them to echo and refract issues that haven't disappeared over the years, only changed resonance. . . . Slocumb's writing is invigorating, and the detail in his character work makes the main characters in both time periods easy to root for. The arc of the story mirrors the sensation of listening to an unfamiliar piece of classical music and thinking 'This is nice' as it starts, then suddenly finding yourself rapt, then thrilled, then, by the end of the journey, entirely astonished. Slocumb is a composer and conductor, and those skills translate well to his mystery writing — his mastery of pacing and tempo and his natural sense of when to soothe the audience and when to jolt them out of their seats are on full display. The novel's examination of white supremacy as an extractive force is clear and present without tripping up the fast-paced and thrilling plotline." —The New York Times

"As rich and suspenseful as The Violin Conspiracy. . . . Absorbing. . . . A fast-paced detective adventure. . . . As [Slocumb] alternates artfully between the 1920s historical narrative and the present-day quest to unravel its mystery, he also parallels the two, which symbolically serves to repair the past. . . . Amid the heart-racing plot, Symphony of Secrets is ultimately an affirmation. Music has historically been the country's ethnically richest art form, particularly embodied in the multicultural story of jazz and in today's cross-fertilization between popular genres. That process has been marred when the powerful extract from the powerless. Josephine Reed's restoration speaks back to such exploitation. Shaping her vast array of colors, ciphers and traditions, she's a seamstress of the torn national fabric." —The Washington Post

"Stirring. . . . A provocative follow to his much-lauded 2022 novel, The Violin Conspiracy, praised for its pitch-perfect dive into the world of classical music and the struggles faced by Black musicians who want to be included and respected for their talents. . . . Compelling. . . . Slocumb writes an intriguing and vivid story about social injustice, cultural appropriation and 'whitewashing.' . . . [The] thoughtful pacing carries an important message about race and privilege and the lengths to which people in power will go to manipulate history." —The Star Tribune

"Music lovers will revel in Symphony of Secrets, a novel that is at once a celebration of music and also a cautionary tale about legacy, privilege, and creative genius." —Nita Prose, #1 New York Times bestselling author of The Maid

"Absolutely brilliant! Once again, Slocumb's consummate skills are on vivid display as he gives us a fascinating page-turner that slips back and forth in time and seamlessly blends a heart-pounding thriller, a heartfelt look at family and quiet heroism, and a searing exposé of issues stretching from deep in our country's past to the very present. The 'secret' of his title is apt indeed. And as for the cast: nobody creates rich, fully formed characters like Brendan Slocumb. Some books we finish and move on. This one will stay with you long after you turn the final page." —Jeffery Deaver, New York Times bestselling author of The Bone Collector and Hunting Time

"A twisty, mesmerizing mystery—Brendan Slocumb's writing is like music itself, dancing elegantly from the page." —Danya Kukafka, bestselling author of Notes On An Execution

"With Symphony of Secrets, Slocumb has woven an incredible thriller about music, genius, history, and greed—and how easily innocent passion can turn to dangerous, deadly obsession. You won't be able to put it down until the last note!" —Peng Shepherd, author of The Cartographers

"Both a beautiful, joyful, celebration of music and the people who love it, and a chilling portrait of how easily good slides into evil—and echoes through the years. I loved this book." —Sara Gran, author of The Book of the Most Precious Substance

"Brendan Slocumb's Symphony of Secrets is a wonderfully compelling page-turner that's so authentic you'll swear that Slocumb himself was part of the 1920s Manhattan music scene. Slocumb's musical background along with his unique characters and gorgeous prose create a fascinating story of astonishing talent and extraordinary deceit. I loved this book!" —Karen Dionne, #1 internationally bestselling author of The Marsh King's Daughter and The Wicked Sister

"Symphony of Secrets is more than just a mystery—it's an overture, a mingling of the past and the present and the problems that still plague America today. Brendan Slocumb is a master storyteller, a conductor of the written word, and in his talented hands, this symphony sings." —Eli Cranor, author of Don't Know Tough and Ozark Dogs

"Music and history are strung together in a delicate harmony that further solidifies Slocumb's place as a must-read author." —BuzzFeed
 
"Slocumb's popular debut, The Violin Conspiracy, turns out to be his tuning up for Symphony of Secrets, which is even better." —Air Mail

"This is a superb novel that will appeal to any thriller fan, not just readers with an ear for classical music. Sophomore novels don't get much better than this." —Kirkus Reviews [starred review]

"Thought-provoking. . . . Gripping chapters set in the 1920s and 1930s vividly evoke Reed, Delaney, and the racial inequities that fueled their relationship. . . . This exploration of the ways race, power, and modern music intersect lands as a timely page-turner." —Publishers Weekly

"Slocumb's second novel (following The Violin Conspiracy) is an improbable but fun mystery that will attract fans of Dan Brown's The Da Vinci Code (a lot of readers, in other words)." —Library Journal