What About Will (Hardcover)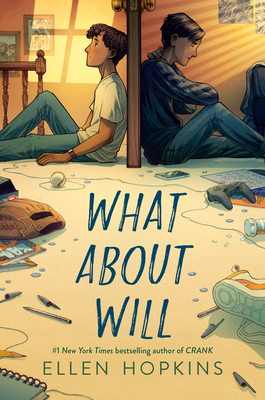 $18.99

Usually Ships in 1-5 Days
Staff Reviews
---
"What about Will's traumatic brain injury? What about Will's anger? What about Will coming and going all the time?" These are the questions Trace can't stop asking himself, even though his parents think Will is on the mend. Trace sees the trouble underneath the surface, and thinks that if he can just fix Will, get his old brother back, that his family will be fixed too. But with Trace asking all these questions about Will, who is keeping track of Trace? What about Will is a homerun, and Trace knows a thing or two about homeruns!
-Clare
— From
Clare's Recs
Description
---
From #1 New York Times bestselling author Ellen Hopkins comes a new heartbreakingly tender middle grade novel in verse about the bonds between two brothers and the love they share.

Twelve-year-old Trace Reynolds has always looked up to his brother, mostly because Will, who's five years older, has never looked down on him. It was Will who taught Trace to ride a bike, would watch sports on TV with him, and cheer him on at Little League. But when Will was knocked out cold during a football game, resulting in a brain injury--everything changed. Now, seventeen months later, their family is still living under the weight of "the incident," that left Will with a facial tic, depression, and an anger he cannot always control, culminating in their parents' divorce. Afraid of further fracturing his family, Trace begins to cover for Will who, struggling with addiction to pain medication, becomes someone Trace doesn't recognize. But when the brother he loves so much becomes more and more withdrawn, and escalates to stealing money and ditching school, Trace realizes some secrets cannot be kept if we ever hope to heal.
About the Author
---
Ellen Hopkins is a poet, former journalist, and the award-winning author of twenty nonfiction books for young readers, fourteen bestselling young-adult novels (including The Crank Trilogy, Burned, Impulse, and Tricks series), and four novels for adult readers. This is her second middle-grade novel. Ellen lives with her extended family, two brilliant German shepherds, and a couple of ponds (not pounds) of koi in the eastern shadow of the Northern Nevada Sierra.



Praise For…
---
Praise for What About Will:
A 2022-2023 Great Lakes Great Books Nominee (MI)
A 2022-2023 Camellia Children's Choice Book Award Nominee (AL)
A 2022 Bank Street Best Children's Book of the Year
A 2022 YALSA Best Fiction for Young Adults Pick

"Heartfelt novel in verse." —Forbes

★ "Hopkins's heartrending novel in verse evocatively conveys Trace's attempts to call attention to Will's dangerous behavior and his yearning to "fix" his broken family. Standout supporting characters include Mr. Cobb, Trace's Vietnam veteran neighbor, and Catalina, a new girl on his baseball team. . . the verse format suits Trace's first-person narrative; its brevity cuts to the heart of Trace's raw feelings of isolation and powerlessness. . .  A realistic, emotionally charged portrait of a family divided and their fragile steps toward a shared future. Recommended for middle grade collections."—School Library Journal, starred review

"Written in her recognizable free-verse style, Hopkins conveys the raw and realistic emotions of a broken family. The book covers multiple tough subjects . . . in a manner that is digestible for a younger audience. What about Will is a story about family, love, loss, hope, and understanding that you don't have to go through hardships alone." —Booklist

"The fears of stable, straight-arrow athlete Trace are clarified in lovely sparks of concrete poetry among Hopkins' free verse, as he learns to tell adults when he sees his beloved brother acting dangerously. Compassionate optimism for a boy who can't control the chaos around him." —Kirkus Reviews

"In effective verse, Hopkins (Closer to Nowhere) tells an honest and moving portrait of a family in flux as they navigate newfound emotional and physical distance…Hopkins tenderly portrays a younger brother learning to advocate for himself and those he loves by speaking up and asking for help." —Publishers Weekly

"A gentle, but honest, look at depression and addiction that also models positive responses and community support. For fans of Ghost by Jason Reynolds and Before the Ever After by Jaqueline Woodson, What About Will is important and moving." —YALSA, on audiobook edition


Praise for Closer to Nowhere:
A 2022-2023 Truman Readers Book Award Nominee (MO)
A 2022-2023 South Carolina Book Award Nominee
A 2021 Bank Street Best Children's Book of the Year
A 2021 NCTE Notable Novel in Verse
An Amazon Best Book of the Month

★ "Readers will root for these realistic characters, and will cheer for the growth they experience. Highly recommended." —School Library Journal, starred review

"Hopkins' use of free verse provides a canvas for sure-handed, brush-stroke development of the backstory and plot and emotional investment and identification with the characters. . . Compassionate and compelling." —Kirkus Reviews

"There's a new crowd of Ellen Hopkins fans on the horizon! Hopkins tackles tough subjects with honesty and compassion, woven in brilliant verse as always, now in a novel for younger readers. This beautifully written book about the strength of family shows us that even someone who doesn't feel at home anywhere can find a place to belong." —Lynne Kelly, author of the Schneider Family Book Award–winning Song for a Whale

"Hopkins uses her familiar verse to take readers on an emotional rollercoaster. . . The author's note about her own family experiences with addiction and behavioral challenges is almost as poignant as the text, and the quick pace makes it easy to devour, enticing fans to check out the rest of Hopkins' oeuvre." —The Bulletin of the Center for Children's Books