Too Shattered for Mending (Hardcover)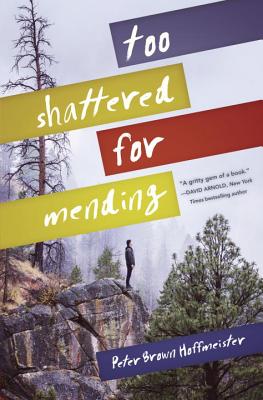 $17.99
Email or call for price/availability
Staff Reviews
---
Little McCardell is drowning in a sea of letters, numbers, and misfortune. At 16 years old, Little is responsible for far too much. His grandfather is missing, his brother is in jail, and he must look after his younger cousin. Little works hard toward graduation but his dyslexia makes school tough. There's a deputy pumping Little for information and two girls are confusing his heart. Little McCardell is a sweet young man and a gripping narrator. His story will make you think, cherish your own blessings, and want to move Heaven and Earth to help him.
- Clare
— From
Clare's Recs
Description
---
"The missing link between Looking for Alaska and Winter's Bone." —Jeff Zentner, author of The Serpent King. 

"A portrait of the heart and will that's so tragic and beautiful it singes. . . . Enough to launch a thousand of those tweets that say 'I'm not crying, you're crying.'" —The New York Times Book Review

"Little" McCardell is doing all he can just to keep it together after the disappearance of his grandfather "Big" and the arrest of his older brother, JT. He's looking out for his younger cousin, trying to stay afloat in school, working in the town graveyard for extra cash, and in his spare time he's pining after Rowan—the girl JT was dating until he got locked up. When the cops turn up asking questions about Big, Little doesn't want to get involved in the investigation—he's already got enough to deal with—but he has no choice. Especially not after the sherriff's deputy catches him hunting deer out of season and threatens to prosecute unless he cooperates.

Soon Little finds himself drowning in secrets, beholden to the sheriff, to JT, to Rowan, and to Big's memory, with no clear way out that doesn't betray at least one of them. And when Little's deepest secret is revealed, there's no telling how it could shatter their lives.

"A powerful and uncompromising story . . .You will not soon forget Little McCardell or his unwavering spirit." —Kathleen Glasgow, New York Times bestselling author of Girl in Pieces
 
★ "A story that is more than the sum of its parts. Proof that even in the darkness, there can be light." —Kirkus Reviews, starred

"A gritty gem of a book." —David Arnold, New York Times bestselling author of Mosquitoland and Kids of Appetite
About the Author
---
PETER BROWN HOFFMEISTER is the author of the critically acclaimed YA novel This Is the Part Where You Laugh, as well as the adult novel Graphic the Valley and a memoir, The End of Boys. A former troubled teen, Hoffmeister was expelled from three high schools, lived for a short while in a Greyhound bus station, was remanded to a recovery and parole program, and completed a wilderness experience for troubled youth. He went on to become a high school teacher and founded the Integrated Outdoor Program, serving teens of all backgrounds, taking them into wilderness areas to backpack, climb, spelunk, orienteer, and whitewater-raft. He lives with his wife and daughters in Eugene, Oregon.
 
Follow him at @peterbrownhoff.
Praise For…
---
"A portrait of the heart and will that's so tragic and beautiful it singes. . . . Enough to launch a thousand of those tweets that say 'I'm not crying, you're crying.'" —The New York Times Book Review

"Proof that even in the darkness, there can be light."—Kirkus Reviews starred review

"[Hoffmeister's] characters are complex and authentic, and his subtle, stripped-down writing changes the narrative in startling ways as the story unfolds and more details come to light."—Publishers Weekly starred review

"A dark, somber novel with an endearing heart and a captivating protagonist."—School Library Journal, starred review

"A powerful and uncompromising story about survival, loss, fear, and what happens when hope is only the bleakest sliver of light. You will not soon forget Little McCardell and his clan, or his unwavering spirit." —Kathleen Glasgow, New York Times bestselling author of Girl in Pieces

"As beautiful and brutal as a winter storm, Too Shattered for Mending is the missing lInk between Looking for Alaska and Winter's Bone." –Jeff Zentner, author of The Serpent King

"A gritty gem of a book." —David Arnold, New York Times bestselling author of Mosquitoland and Kids of Appetite