A Song for Ella Grey (Hardcover)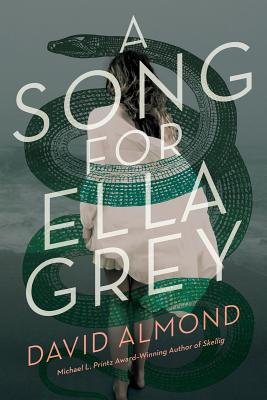 Staff Reviews
---
Almond's lilting, lyrical prose reproduces the magical, transporting music of the Orpheus myth. In this retelling, set in contemporary England, our narrator Claire shares with us the story of Ella, her lifelong, deeply loved best friend. Their lives are much like those of other teens until Claire, on holiday with some friends, encounters Orpheus, an ethereal young man who makes astonishing and enveloping music with his voice and his lyre. Claire uses a cell phone to share the sound with Ella, who falls passionately in love with the music and the musician. The intense love story doesn't sidestep the inevitable tragedy; the soaring joy and devastating grief of young love ring as true today as they did thousands of years ago.
- Banna
— From
Books for Young Adults
Description
---
Written in lyrical prose, this novel for fans of epic romances and mythology retellings explores themes of love, loss, fate, and destiny set against the dramatic and diverse backdrop of Northern England. 

David Almond, recipient of the prestigious Hans Christian Andersen Award, a Printz Honor for Skellig, and the Printz Award for Kit's Wilderness, has crafted an enchanting modern take on the myth of Orpheus and Eurydice.
  
    Claire and Ella and their friends are bound by ties so strong they seem unbreakable. Then the strange and handsome Orpheus strolls onto the beach, and he sings them all into an astonishing new understanding of themselves. Ella is caught the hardest, fastest, deepest—and Claire is left with the pain of looking on.

   Raw, emotional, lyrical, funny, and true, A Song for Ella Grey is a tale of the joys, troubles, and desires of modern teens. It takes place in the ordinary streets of Tyneside and on the beautiful beaches of Northumberland. It's a story of first love, a love song that draws on ancient mythical forces. A love that leads Ella, Orpheus, and Claire to the gates of Death and beyond.


Winner of The Guardian Children's Fiction Prize

A PW Best Book of 2015

"Almond's lyrical narrative will sweep readers on a journey to unearthly, mysterious realms and back."—Publishers Weekly, Starred Review

"Innovative and dreamlike . . . and told in Almond's lyrical, distinctive prose. Teen readers of a literary bent and mythology enthusiasts will love this latest work."—School Library Journal, Starred Review

"Almond brings his hypnotic lyricism to this darkly romantic tale that sings of the madness of youth, the ache of love, and the near-impossibility of grasping death."—Kirkus Reviews
About the Author
---
DAVID ALMOND grew up in a large family in northeastern England and says, "The place and the people have given me many of my stories." His first novel for children, Skellig, was a Michael L. Printz Honor Book and an ALA-ALSC Notable Children's Book and appeared on many Best Book of the Year lists. He wrote My Name is Mina, the prequel to Skellig. His novel, Kit's Wilderness, won the Michael L. Printz Award for Excellence in Young Adult Literature. David Almond is a recipient of the prestigious Hans Christian Andersen Award. He lives in England. Visit him online at davidalmond.com and on Facebook and follow him @davidjalmond on Twitter.
Praise For…
---
"Almond's lyrical narrative will sweep readers on a journey to unearthly, mysterious realms and back."—Publishers Weekly, Starred Review

"Innovative and dreamlike . . . and told in Almond's distinctive prose. Teen readers of a literary bent and mythology enthusiasts will love this latest work."—School Library Journal, Starred Review

"Almond brings his hypnotic lyricism to this darkly romantic tale that sings of the madness of youth, the ache of love, and the near-impossibility of grasping death."—Kirkus Reviews

". . . captures the heady rush of reckless youth. Readers will likely be transfixed by this rhapsodic modern telling of a classic tragedy."—Booklist

"Almond's . . . prose seeps into your blood like word venom until you can't imagine reading anything else."—The Times (London)

"David Almond's books are strange, unsettling wild things--unfettered by the normal constraints of children's literature, beyond classification."—The Guardian

"Printz Award-winner Almond delivers another haunting, intricately-woven piece of literature."—VOYA

"The evocation of the desperate immediacy of adolescence itself . . . is artfully rendered."--The Bulletin of the Center for Children's Books

"An ode to the mad joy of youth, mortality and love."--Shelf Awareness