Denton Little's Deathdate (Denton Little Series #1) (Paperback)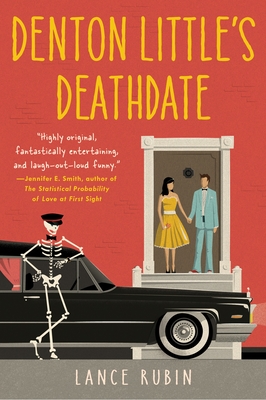 $10.99
Email or call for price/availability
Other Books in Series
This is book number 1 in the Denton Little Series series.
Staff Reviews
---
Denton Little has known the exact day he is going to die since he was 5 years old. Everyone knows their death date, that's just the way it is. He's gone through the grief counseling and is ready for a quiet 48 hours before his death but the last thing Denton gets is peace and quiet. There's a love triangle, government conspiracy, and prom; complete with a powder blue tux! Denton is the perfect narrator to tell this story; equal parts wit, sarcasm, and sincerity. He's the guy you want to root for and see if he can out-run fate.
- Clare
— From
Clare's Recs
Description
---
**The Snapchat Original series, Denton's Deathdate, is here—check it out!**

Get ready to die laughing: this is an outrageously funny ride through the last hours of a teenager's life as he searches for love, meaning, answers, and (just maybe) a way to live on.
 
Denton Little's Deathdate takes place in a world exactly like our own except that everyone knows the day on which they will die. For Denton, that's in just two days—the day of his senior prom.
 
Despite his early deathdate, Denton has always wanted to live a normal life, but his final days are filled with dramatic firsts. First hangover. First sex. First love triangle—as the first sex seems to have happened not with his adoring girlfriend, but with his best friend's hostile sister. (Though he's not totally sure—see, first hangover.) His anxiety builds when he discovers a strange purple rash making its way up his body. Is this what will kill him? And then a strange man shows up at his funeral, claiming to have known Denton's long-deceased mother, and warning him to beware of suspicious government characters. . . . Suddenly Denton's life is filled with mysterious questions and precious little time to find the answers.
 
Fall in love with Denton Little!

"Rubin is really funny but like John Green, he manages to be poignant at the same time. You'll laugh out loud while you read this, but you're probably going to tear up a bit too." --Bustle

"The dialogue is witty and raunchy, the plot is uniquely twisted, and the ending is to die for. This book will fly off the shelves."--VOYA

"Lance Rubin creates a world in which (almost) everyone can answer the question, 'What would you do if you knew when you were going to die?' and holy s*#! the answers are hilarious. I don't think I've laughed at death so much in a long, long time. Read this book, it'll have you dying." —Isabel Quintero, Morris Award-winning author of Gabi, A Girl in Pieces

"Hilarious, thought-provoking, irreverent, unforgettable. . . . Live your own death, Dent. We love you." --Catherine Gilbert Murdock, author of Dairy Queen

"If Six Feet Under had been created by John Hughes: that's Denton Little's Deathdate." —Tim Federle, author of The Great American Whatever

"Wildly funny, brilliantly weird, and achingly heartfelt." —Becky Albertalli, Morris Award–winning author of Simon vs. the Homo Sapiens Agenda

"Highly original, fantastically entertaining, and laugh-out-loud funny, Denton Little's Deathdate is a wild romp through a night like no other." --Jennifer E. Smith, author of The Geography of You and Me

"An utterly enjoyable, engrossing page-turner." -- Bulletin

"The tweaked contemporary setting, irreverent end-of-life humor, and big, existential questions make this a good pick for fans of John Corey Whaley's Noggin." -- Publishers Weekly
About the Author
---
Lance Rubin is the author of Denton Little's Deathdate. He's worked as an actor and written sketch comedy, including successful runs of The Lance and Ray Show at the Upright Citizens Brigade Theatre in New York City. He's also co-written a new musical called Broadway Bounty Hunter. Lance lives in Brooklyn with his wife and son. He is very glad he doesn't know his deathdate. You can follow him online at LanceRubin.com and on Twitter @LanceRubinParty.
Praise For…
---
WINNER of the ILA Young Adult Book Award!

"Let's all pray the grim reaper is even half as witty (and wise) as the deadly talented Lance Rubin. Till then: skip this book at your own peril." --Tim Federle, author of The Great American Whatever

"Highly original, fantastically entertaining, and laugh-out-loud funny, Denton Little's Deathdate is a wild romp through a night like no other." --Jennifer E. Smith, author of The Geography of You and Me

"Denton Little's Deathdate is hilarious, thought-provoking, irreverent, unforgettable. . . . Live your own death, Dent. We love you." --Catherine Gilbert Murdock, author of Dairy Queen

"Rubin is really funny but like John Green, he manages to be poignant at the same time. You'll laugh out loud while you read this, but you're probably going to tear up a bit too." --Bustle

"Quirky and highly original." --School Library Journal

"The dialogue is witty and raunchy, the plot is uniquely twisted, and the ending is to die for. This book will fly off the shelves."--VOYA

"An utterly enjoyable, engrossing page-turner." -- Bulletin
 
"A surprisingly breezy read, both for its hilarity and for its gradually revealed secrets." -- The Horn Book Magazine
 
"The tweaked contemporary setting, irreverent end-of-life humor, and big, existential questions make this a good pick for fans of John Corey Whaley's Noggin." -- Publishers Weekly