The Martian: A Novel (Paperback)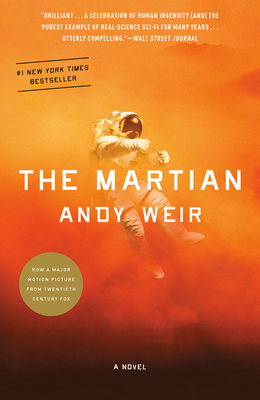 Staff Reviews
---
Watney is optimistic, smart, and resourceful - and it's a darn good thing, because he happens to be an astronaut stranded alone on Mars. Believing he is dead, the rest of his crew escapes the planet's surface and heads back to Earth. Watney must use his knowledge and ingenuity to survive until he can contact NASA and they create a plan to rescue him - which, if all goes well and it probably won't, would be four years out. Watney's essential good humor, resilience, and "can-do" attitude serve him well while he waits and hopes, as he so eloquently puts it, not to die. You'll be chuckling and holding your breath at the same time!
- Cindy
— From
Cindy's Recs 2
February 2014 Indie Next List
---
"This taut, cerebral debut thriller introduces readers to the only kind of alien we have yet to encounter: ourselves. Astronaut Mark Watney is mistakenly left for dead on Mars when his mission companions flee a violent wind storm. His mental and physical struggles to survive are a crash course in botany, mechanics, and the will to endure. This is the compelling space saga that you didn't know you had been waiting for!"
— Zack Ruskin, Book Passage, San Francisco, CA
Description
---
Selected for common reading at North Lake College 

Nominated as one of America's best-loved novels by PBS's The Great American Read

Six days ago, astronaut Mark Watney became one of the first people to walk on Mars.

Now, he's sure he'll be the first person to die there.

After a dust storm nearly kills him and forces his crew to evacuate while thinking him dead, Mark finds himself stranded and completely alone with no way to even signal Earth that he's alive—and even if he could get word out, his supplies would be gone long before a rescue could arrive.

Chances are, though, he won't have time to starve to death. The damaged machinery, unforgiving environment, or plain-old "human error" are much more likely to kill him first.

But Mark isn't ready to give up yet. Drawing on his ingenuity, his engineering skills—and a relentless, dogged refusal to quit—he steadfastly confronts one seemingly insurmountable obstacle after the next. Will his resourcefulness be enough to overcome the impossible odds against him?
About the Author
---
Andy Weir built a career as a software engineer until the success of his first published novel, The Martian, allowed him to live out his dream of writing fulltime. He is a lifelong space nerd and a devoted hobbyist of subjects such as relativistic physics, orbital mechanics, and the history of manned spaceflight. He also mixes a mean cocktail. He lives in California.
Praise For…
---
"Brilliant…a celebration of human ingenuity [and] the purest example of real-science sci-fi for many years…Utterly compelling."--Wall Street Journal

"Terrific stuff, a crackling good read that devotees of space travel will devour like candy…succeeds on several levels and for a variety of reasons, not least of which is its surprising plausibility."—USA Today  

"An impressively geeky debut…the technical details keep the story relentlessly precise and the suspense ramped up. And really, how can anyone not root for a regular dude to prove the U-S-A still has the Right Stuff?"--Entertainment Weekly

"Gripping…[features] a hero who can solve almost every problem while still being hilarious. It's hard not to be swept up in [Weir's] vision and root for every one of these characters. Grade: A."—AVClub.com 

"Andy Weir delivers with The Martian...a story for readers who enjoy thrillers, science fiction, non-fiction, or flat-out adventure [and] an authentic portrayal of the future of space travel."--Associated Press

"A gripping tale of survival in space [that] harkens back to the early days of science fiction by masters such as Robert Heinlein, Isaac Asimov and Arthur C. Clarke."--San Jose Mercury News

"One of the best thrillers I've read in a long time. It feels so real it could almost be nonfiction, and yet it has the narrative drive and power of a rocket launch. This is Apollo 13 times ten."
--Douglas Preston, #1 New York Times bestselling author of Impact and Blasphemy
 
"A book I just couldn't put down! It has the very rare combination of a good, original story, interestingly real characters and fascinating technical accuracy…reads like "MacGyver" meets "Mysterious Island."
--Astronaut Chris Hadfield, Commander of the International Space Station and author of An Astronaut's Guide to Life on Earth
 
"The best book I've read in ages. Clear your schedule before you crack the seal. This story will take your breath away faster than a hull breech. Smart, funny, and white-knuckle intense, The Martian is everything you want from a novel."
--Hugh Howey, New York Times bestselling author of Wool
 
"The Martian kicked my ass! Weir has crafted a relentlessly entertaining and inventive survival thriller, a MacGyver-trapped-on-Mars tale that feels just as real and harrowing as the true story of Apollo 13."
—Ernest Cline, New York Times bestselling author of Ready Player One
 
"Gripping…shapes up like Defoe's Robinson Crusoe as written by someone brighter."
--Larry Niven, multiple Hugo and Nebula Award-winning author of the Ringworld series and Lucifer's Hammer

"Humankind is only as strong as the challenges it faces, and The Martian pits human ingenuity (laced with more humor than you'd expect) against the greatest endeavor of our time — survival on Mars. A great read with an inspiring attention to technical detail and surprising emotional depth. Loved it!"
--Daniel H. Wilson, New York Times bestselling author of Robopocalypse

"The tension simply never lets up, from the first page to the last, and at no point does the believability falter for even a second. You can't shake the feeling that this could all really happen."
—Patrick Lee, New York Times bestselling author of The Breach and Ghost Country
 
"Strong, resilent, and gutsy. It's Robinson Crusoe on Mars, 21st century style.  Set aside a chunk of free time when you start this one.  You're going to need it because you won't want to put it down."
—Steve Berry, New York Times bestselling author of The King's Deception and The Columbus Affair   

"An excellent first novel…Weir laces the technical details with enough keen wit to satisfy hard science fiction fan and general reader alike [and] keeps the story escalating to a riveting conclusion."—Publisher's Weekly (starred)

"Riveting...a tightly constructed and completely believable story of a man's ingenuity and strength in the face of seemingly insurmountable odds."--Booklist

"Sharp, funny and thrilling, with just the right amount of geekery…Weir displays a virtuosic ability to write about highly technical situations without leaving readers far behind. The result is a story that is as plausible as it is compelling."—Kirkus

"Weir combines the heart-stopping with the humorous in this brilliant debut novel...by placing a nail-biting life-and-death situation on Mars and adding a snarky and wise-cracking nerdy hero, Weir has created the perfect mix of action and space adventure."--Library Journal (starred) 
 
"A perfect novel in almost every way, The Martian may already have my vote for best book of 2014."—Crimespree Magazine

"A page-turning thriller…this survival tale with a high-tech twist will pull you right in."—Suspense Magazine
 
 
Coverage from NPR
Upcoming Events
No upcoming events available