I Take You: A Novel (Paperback)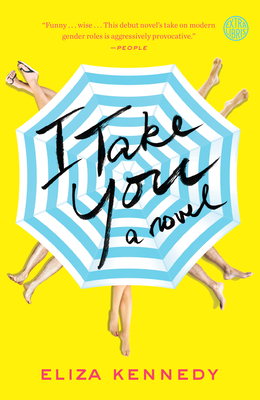 $16.00
Email or call for price/availability
Staff Reviews
---
Lily Wilder is a lawyer, a workaholic, and the last person on Earth that should be getting married. Her moral compass is spotty at best and her fiancé, Will, is way out of her league. One week before the wedding she's having second thoughts and her parents aren't convinced wedded bliss is for her. To make matters worse, she is being blackmailed by her soon-to- be mother-in-law, and the biggest case in her short career is looming over her head. This hysterical tale of pre-wedding blunders, missteps, and love is sure to have you in stitches. Eliza Kennedy's I Take You puts a new spin on cold-feet that you won't be able to put down!
- Clare
— From
Clare's Recs
Description
---
Meet Lily Wilder: New Yorker, lawyer extraordinaire, blushing bride. And totally incapable of being faithful to one man.

     Lily's fiancé Will is a brilliant, handsome archaeologist. Lily is sassy, impulsive, fond of a good drink (or five) and has no business getting married. Lily likes Will, but does she love him? Will loves Lily, but does he know her? As the wedding approaches, Lily's nights—and mornings, and afternoons—of booze, laughter and questionable decisions become a growing reminder that the happiest day of her life might turn out to be her worst mistake yet.
    
Unapologetically sexy with the ribald humor of Bridesmaids, this joyously provocative debut introduces a self-assured protagonist you won't soon forget.
About the Author
---
ELIZA KENNEDY attended the University of Iowa and Harvard Law School, where she was an editor of the Harvard Law Review. After graduation she served as a law clerk for a federal judge, then practiced litigation for several years at a prestigious Manhattan law firm. She lives in New York with her husband and son. This is her first novel.
Praise For…
---
"A salty, lively first novel... crackling, bawdy, and modern."
—STEPHANIE CLIFFORD, New York Times Book Review 

"In the first big beach read of the season, New York lawyer and bride-to-be Lily Wilder has a hard time staying faithful to her perfect fiancé- but that won't stop this hilarious debut novel from winning you over and warming your heart."
—Entertainment Weekly

"It's the smartest, sexiest, funniest (like, hilarious) beach read on the shelves right now." —Huffington Post 

"Lily Wilder is a young lawyer who compulsively drinks, swears and sleeps with random strangers-even as she prepares to wed her fiancé in just a few days. But she grows on you. This debut novel's take on modern gender roles is aggressively provocative, with graphic sex. It's also funny and, eventually, wise."
—People

"Saucy, sexy and funny as hell, all aboard this irresistible train wreck with narrator Lily Wilder. She's a work (and sex!) driven high-powered New York litigator who drinks like a fish and enjoys the company of other men, even if they aren't her fiancé. She's also getting married in Key West in one week. Oh boy! Eliza Kennedy's debut novel will have you blushing, laughing and loving the lavish antics of our new favorite protagonist. This is your next book club read." 
—USA Today

"[Kennedy's] snappy comedy of mis-manners delights in subverting expectation... I Take You, as salty-sweet as a margarita, will appeal to fans of Seating Arrangements, Where'd You Go, Bernadette, and, looking further back, Laurie Colwin's Happy All the Time, though it's far more ribald. Kennedy's novel, tailored for summer wedding season, is a sassy paean to pleasure and romantic love that may well leave you singing that classic Gershwin line, 'Better call the calling-off off.'"  
—HELLER MCALPIN, NPR.org

"Kennedy's debut novel sparkles with candor and wit…[her] ribald story is both engaging and atypical, the perfect combination for a new voice in women's fiction."
—Publisher's Weekly

"…hilarious, frank and boundary-pushing."
—BookPage

"I Take You is fast-paced, with a medley of subplots and interesting characters. It's also an examination of gender roles and cultural expectations…an enjoyable read with a darker spin on the chick-lit formula."
—Roanoke Times

"I have not laughed this hard or this much at a book since Bridget Jones's Diary. I Take You is wickedly smart, hilariously funny, sexy, clever, and stupidly accomplished for a first novel. In short, the most enjoyable read I have had in YEARS. I completely loved it."
—JANE GREEN, New York Times bestselling author of Tempting Fate
 
"HAHAHAHAHAHAHAHA! I Take You is the funniest book I've read all year. I drank four bottles of chardonnay by myself because I couldn't get to a book club fast enough. Eliza Kennedy makes infidelity sexy again!"
—GARY SHTEYNGART, New York Times bestselling author of Super Sad True Love Story
 
"I Take You is sexy and smart in equal measure—Eliza Kennedy's heroine Lily Wilder is great fun to be around, even if she's not always sure who she's taking to bed. Kennedy's witty and brash voice will win you over by the end of the first page."
—EMMA STRAUB, New York Times bestselling author of The Vacationers
 
"This fun, warmhearted novel is the rare great read about love and marriage that doesn't tacitly promote a set of dated ideas about how women should feel, think and behave. Instead, it romps along merrily while being subtly revolutionary about sexual politics—no small feat, as anyone who's tried to romp merrily while revolting can attest."
—EMILY GOULD, author of Friendship: A Novel