The Lotterys Plus One (Hardcover)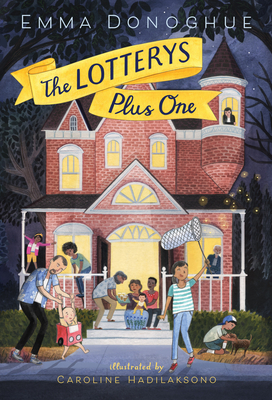 $17.99
Usually Ships in 1-5 Days
Staff Reviews
---
MIDDLE GRADE
Families don't get much more diverse than the Lotterys (a winning ticket inspired their chosen name): two gay moms, two gay dads, and seven homeschooled biological and adopted children, all eleven of them of varying races and ethnicities. This exuberant, loving family is so inclusive you'll feel a part of it from page one. A huge challenge arrives when a scowling, disapproving grandpa from the Yukon, whose dementia means he can no longer live alone, moves in. You'll be rooting without reservation for this family that's constantly redefined "normal."
- Banna
— From
Banna's New Recs
Families don't get much more diverse than the Lotterys (a winning ticket inspired their chosen name): two gay moms, two gay dads, and seven homeschooled biological and adopted children, all eleven of them of varying races and ethnicities. This exuberant, loving family is so inclusive you'll feel a part of it from page one. A huge challenge arrives when a scowling, disapproving grandpa from the Yukon, whose dementia means he can no longer live alone, moves in. You'll be rooting without reservation for this family that's constantly redefined "normal.
- Banna
— From
Books for Middle Grade Readers
Description
---
The bestselling author of the adult novel Room bursts onto the children's book scene with this cross between Little Miss Sunshine, Cheaper by the Dozen, and Modern Family.
Sumac Lottery is nine years old and the self-proclaimed "good girl" of her (VERY) large, (EXTREMELY) unruly family. And what a family the Lotterys are: four parents, children both adopted and biological, and a menagerie of pets, all living and learning together in a sprawling house called Camelottery. Then one day, the news breaks that one of their grandfathers is suffering from dementia and will be coming to live with them. And not just any grandfather -- the long dormant "Grumps," who fell out with his son so long ago that he hasn't been part of any of their lives.
Suddenly, everything changes. Sumac has to give up her room to make the newcomer feel at home. She tries to be nice, but prickly Grumps clearly disapproves of how the Lotterys live: whole grains, strange vegetables, rescue pets, a multicultural household... He's worse than just tough to get along with -- Grumps has got to go! But can Sumac help him find a home where he belongs?
About the Author
---
Emma Donoghue is the author of the international bestseller and Man Booker Prize finalist iRoom/i, as well as several other novels, including iKissing the Witch/i, which was shortlisted for the Tiptree Award. Born in Ireland, she now lives in Canada with her partner and their two children.

Caroline Hadilaksono was born in Indonesia, moved to Los Angeles when she was twelve, and while she currently lives in New York, she will always consider herself a California gal. She is equal parts designer and illustrator, and one of the original cofounders of The League of Moveable Type. These days she's busy making pictures, books, and educational science apps. She dreams of traveling around the world and one day living in a tree house. Find her online at hadilaksono.com.
Praise For…
---
A Kirkus Best Book of the Year
A Publishers Weekly Best Book of the Year
A Shelf Awareness Best Book of the Year
"[Donoghue's] fans will recognize not only her gift for representing a child's point of view, but also her knack for showing how a family, no matter how small or large, develops its own language, even its own culture." -- The New York Times
* "A family very much of our century... Most refreshing is that the Lotterys' many differences... are simply part of their own normal. Full of clever names and wordplay, this engaging tale... will resonate with readers from all backgrounds." -- Kirkus Reviews, starred review
* "Donoghue (Room) vividly captures the Lotterys' chaotic but always loving home through a flurry of inside jokes, banter, and nicknames. If some readers have difficulty keeping the members of the large family straight, Hadilaksono's lively David Roberts-esque illustrations... provide a colorful guide to the Lotterys' wonderfully offbeat home." -- Publishers Weekly, starred review
Upcoming Events
Event date:

Tue, 03/31/2020 - 10:30am