The Apparitionists: A Tale of Phantoms, Fraud, Photography, and the Man Who Captured Lincoln's Ghost (Hardcover)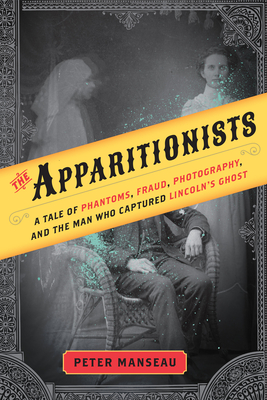 Staff Reviews
---
Humans have always hoped that death wasn't final, and this book introduces the photographer who offered proof that the dead are still with us. William Mumler, a photographer in the mid-1800s, took a self-portrait that appeared to include his deceased cousin. The resulting publicity spurred him to start a business taking "spirit photographs." He went on to take hundreds of these spirit photographs, bringing comfort to many who had lost loved ones to disease or war. He famously photographed Mary Todd Lincoln with the ghost of her husband behind her. Mumler, ultimately brought to trial for fraud, was found not guilty but stopped photographing "spirits." His life is contextualized through contemporaneous historical figures such as Samuel Morse, Mathew Brady and P.T. Barnum. Manseau brings disparate historical threads together to create an engaging narrative history.
- Cindy
— From
Cindy's Recs 2
Description
---
An NPR Best Book of 2017

"A rare work of historical nonfiction that is both studious and just plain entertaining."—Publishers Weekly, Top Ten Books of 2017
"An exceptional story"—Errol Morris, New York Times Book Review

A story of faith and fraud in post–Civil War America, told through the lens of a photographer who claimed he could capture images of the dead

In the early days of photography, in the death-strewn wake of the Civil War, one man seized America's imagination. A "spirit photographer," William Mumler took portrait photographs that featured the ghostly presence of a lost loved one alongside the living subject. Mumler was a sensation: The affluent and influential came calling, including Mary Todd Lincoln, who arrived at his studio in disguise amidst rumors of séances in the White House. 

Peter Manseau brilliantly captures a nation wracked with grief and hungry for proof of the existence of ghosts and for contact with their dead husbands and sons. It took a circus-like trial of Mumler on fraud charges, starring P. T. Barnum for the prosecution, to expose a fault line of doubt and manipulation. And even then, the judge sided with the defense—nobody ever solved the mystery of his spirit photography. This forgotten puzzle offers a vivid snapshot of America at a crossroads in its history, a nation in thrall to new technology while clinging desperately to belief.
About the Author
---
PETER MANSEAU is the author of the nonfiction books Vows, Rag and Bone, and One Nation, Under Gods; and the novel Songs for the Butcher's Daughter, a winner of the National Jewish Book Award. He is the first curator of religion at the Smithsonian's National Museum of American History.  He lives in Annapolis, Maryland
 
Praise For…
---
Praise for The Apparitionists
A New York Times Book Review Editors' Choice
A Publishers Weekly Top 10 Book of 2017
 
"In The Apparitionists, Peter Manseau takes us on an expedition through the beginnings of photography and its deceptions... Manseau has created an exceptional story of how photography intersects with the hope that some heretofore unexplored scientific process will reveal something about the nature of man and our limitations."—Errol Morris, The New York Times Book Review
 
"A sensitive, insightful history."—The New Yorker
 
"Mr. Manseau develops these threads so that The Apparitionists itself is like a photograph—each successive chapter adding depth and shade and specks of mystery, until the final result magically appears, provoking as many questions as it provides answers."—Wall Street Journal
 
"Given that the path loops through the Civil War, the telegraph, P.T. Barnum, spiritualism and a trained seal, it's impressive that The Apparitionists is as brisk a read as it is. The tone is knowledgeable, but the touch is light; technology is deftly explained, figures who have been gone too long are always briefly reintroduced, and Manseau is happy to reassure you you're reading a history. (Of two warring photographers, he notes that, unfortunately, 'Mortal partnerships are always only temporary.')"—NPR
 
"The Apparitionists is breezy, clever, and exuberant."—Harper's Magazine 

"Wide-ranging and thought-provoking... In our age of digital manipulation, it is more important than ever to scrutinize every photograph, whether or not they contain ghosts."—San Francisco Chronicle

"Written like a novel but researched with academic rigor, this account of a photographer whose work seemed to incorporate images from the spirit realm stops short of either endorsing the veracity of the photographer's claim or debunking his work as a scam...A well-paced nonfiction work that reads more like a historical novel than an academic study.."
—Kirkus

"In this meticulously researched study of America's dalliance with spiritualism in the 19th century...Manseau provides comprehensive context for his chronicle of Mumler, placing him at the intersection of the Spiritualist movement and the rise of the photographic art, and in the context of the Civil War, which acquainted Americans with death on an unprecedented scale.—Publishers Weekly, starred review

"More than just a fraud, William Mumler was a pioneer in the new art of photography—a striking technology that not only offered new levels of immediacy but also immediately offered itself up to manipulation, provoking questions of authenticity even as its uncanny effects offered a tantalizing vision of the unknown. He was a huckster, but like all successful hucksters, he was a perfect reflection of his time. Peter Manseau's The Apparitionists recreates Mumler's life with a scholar's poise and a storyteller's grace, offering an enduring portrait of the nineteenth century through one of its most unlikely figures."
—Colin Dickey, author of Ghostland: An American History in Haunted Places

"Manseau has become the foremost chronicler of the deep American desire to believe in the weird, the strange, and oddly wonderful. His latest, The Apparitionists, is lighthearted and yet—in all senses—grave, a profound consideration of death and doubt illuminated by a 19th century gallery of genius and ingenious deception. The dead speak in this brilliantly entertaining tale." —Jeff Sharlet, New York Times bestselling author of The Family: The Secret Fundamentalism at the Heart of American Life

"Peter Manseau's smart new book... crystallizes a moment when photography was so unsettling it reshaped ideas about mortality." —The Week