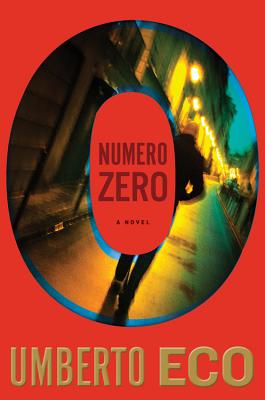 Staff Reviews
---
Eco returns to familiar themes of deception and conspiracy in this fast-moving story about government corruption and media manipulation. Colonna, a hack writer, is invited to join a motley group funded by a mysterious high powered backer that is creating mock newspapers exposing past corruption. To what use these "zeros" will be used is never revealed, but he is soon drawn into a deadly web of clues that lead from Mussolini to the Vatican to the modern Italian government. Those who enjoy conspiracy theories and skewering the powerful will read this book with delight.
- Cindy
— From
Cindy's Recs 2
December '15 Indie Next List
---
"Eco's new book engages on many levels, from the intense literary verve to the cunning insertion of conspiracy theories. Colonna, an unemployed writer, is hired to write the history of a newspaper, which will never see print, while one of his colleagues discovers that Mussolini may have met a different end than the historically accepted one. When Colonna digs deeper, the life he has made, and the lives of his friends, unravel in unexpected ways. Eco has produced another genre-bending, erudite piece of fiction that will amuse and distress lovers of literature and history with equal measure."
— Raul Chapa (E), Book People Bookstore, Austin, TX
Description
---
From the best-selling author of The Name of the Rose and The Prague Cemetery, a novel about the murky world of media politics, conspiracy, and murder

A newspaper committed to blackmail and mud slinging, rather than reporting the news.
 
A paranoid editor, walking through the streets of Milan, reconstructing fifty years of history against the backdrop of a plot involving the cadaver of Mussolini's double.
 
The murder of Pope John Paul I, the CIA, red terrorists handled by secret services, twenty years of bloodshed, and events that seem outlandish until the BBC proves them true.
 
A fragile love story between two born losers, a failed ghost writer, and a vulnerable girl, who specializes in celebrity gossip yet cries over the second movement of Beethoven's Seventh. And then a dead body that suddenly appears in a back alley in Milan. 
 
Set in 1992 and foreshadowing the mysteries and follies of the following twenty years, Numero Zero is a scintillating take on our times from the best-selling author of The Name of the Rose and Foucault's Pendulum.
About the Author
---
UMBERTO ECO (1932–2016) was the author of numerous essay collections and seven novels, including The Name of the Rose,The Prague Cemetery, and Inventing the Enemy. He received Italy's highest literary award, the Premio Strega, was named a Chevalier de la Légion d'Honneur by the French government, and was an honorary member of the American Academy of Arts and Letters.

RICHARD DIXON lives and works in Italy. His translations include works by Umberto Eco, Roberto Calasso, and Giacomo Leopardi. His translation of The Prague Cemetery by Umberto Eco was short-listed for the Independent Foreign Fiction Prize in 2012.
Praise For…
---
New York Times Paperback Row
One of Vulture's "7 Books You Need to Read this November"
Included on the Los Angeles Times's "Holiday Books Roundup"
One of Bloomberg Business's "Eight Books for Your Holiday Reading"
One of The Millions "Most Anticipated" from the Second Half of 2015
One of the Sun Herald's "Ten noteworthy fiction and nonfiction titles on the way"
December 2015 Indie Next Pick

"Witty and wry...slim in pages but plump in satire about modern Italy...it's hard not to be charmed by the zest of the author."—Tom Rachman, New York Times Book Review

"Frequently imitated for his amalgamation of intellect, conspiracism, and historical suspense, the author of In the Name of the Rose takes a more contemporary and satirical turn. In 1992, as Italy works to cleanse itself of corruption, a hack journalist is hired to ghostwrite a memoir about a never-to-be-published gossip rag in order to cover up the real rationale for its fakery. Eco's warped parable is rooted in a very specific time and place, but readers of Elena Ferrante or Rachel Kushner will likely catch the barbs in his clever absurdities."—Vulture (New York), "7 Books You Need to Read this November"

"Colonna, the struggling ghostwriter at the heart of this story, is transfixed by a juicy scoop: that Mussolini was not killed by partisans in 1945, as most believe, but instead survived in hiding. This sly satire, borrowing from outrageous real-life Italian politics, features a larger-than-life leader, conspiracy theories and an almost-corrupt press."—New York Times, Paperback Row

"Numero Zero [is]...a smart puzzle and a delight."—Kirkus Reviews, starred

"Eco combines his delight in suspense with astute political satire in this brainy, funny, neatly lacerating thriller…. Eco's caustically clever, darkly hilarious, dagger-quick tale of lies, crimes, and collusions condemns the shameless corruption and greed undermining journalism and governments everywhere. A satisfyingly scathing indictment brightened by resolute love." --Booklist