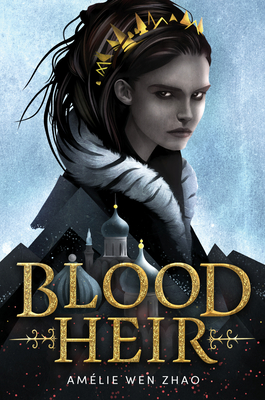 Staff Reviews
---
AWAITING PUBLICATION
This dark Anastasia retelling gives the lost princess a monstrous new tale that is as gruesome as her realistic history. With the power to manipulate certain elements, Affinities are regarded as demons in the kingdom of Cyrilia. Ana has been a smudge on the royal family's name due to her affinity for blood, and now must prove her innocence after being framed for the king's murder. Though naïve to the faults of her kingdom after living locked behind castle walls, Ana realizes that not only must she hunt down her father's murderer, but also fight for those who have been deemed as monsters. Amelie has crafted a world full of diverse and complex characters who cope with oppression, tragedy, and the painful decisions that come with fighting for something bigger than oneself.
- Kiera
— From
Kiera's Recs
Description
---
This hot debut is the first book in an epic new series about a princess hiding a dark secret and the con man she must trust to clear her name for her father's murder.

In the Cyrilian Empire, Affinites are reviled and enslaved. Their varied abilities to control the world around them are unnatural--dangerous. And Anastacya Mikhailov, the crown princess, might be the most monstrous of them all. Her deadly Affinity to blood is her curse and the reason she has lived her life hidden behind palace walls.

But when Ana's father, the emperor, is murdered, her world is shattered: Ana is the one framed as his killer. To save herself, she must flee the safety of the palace and enter a land that hunts her and her kind. And to clear her name, she must find her father's murderer on her own. Yet, what Ana finds is far worse than she ever imagined. A greater conspiracy is at work in Cyrilia, one that threatens the very balance of her world. And there is only one person corrupt enough to help her get to its rotten core: Ramson Quicktongue.

A cunning crime lord of the Cyrilian underworld, Ramson has sinister plans--though he might have met his match in Ana. Because in this story, the princess might be the most dangerous player of all.
About the Author
---
Amélie Wen Zhao was born in Paris, grew up in Beijing, and attended college in New York City, where she currently resides. Blood Heir is her first novel. To learn more about Amélie and Blood Heir, go to ameliezhao.com or follow @ameliewenzhao on Twitter and Instagram.
Praise For…
---
"Blood Heir is everything I love in a fantasy— a lush new world to lose myself in, complex characters that make and break your heart, and breathtaking action sequences. What really makes it stand out are the moral complexities of the two protagonists. Amélie is a master of character, and I fell in love with this beautiful pair." —Natasha Ngan, New York Times bestselling author of Girls of Paper and Fire

"Blood Heir is cinematic storytelling at its best. A stunning new voice in YA, Amélie Wen Zhao has drawn characters who are as complex and captivating as the fantastical world she's built. With a thrilling, slow-burn romance and a layered, twisty plot that hits the ground running, this spectacular debut delivers. Get ready for a retelling like you've never see before." --Adrienne Young, New York Times bestselling author of Sky in the Deep

"This Anastasia retelling captivated me on the first page. Amélie's prose is sumptuous, and her story sings of a brave heroine, a conflicted con man, enthralling magic, intricate schemes, and a bloody world on the cusp of metamorphosis. Blood Heir is a glorious debut, one that has me beyond eager for the sequel." —Rebecca Ross, author of The Queen's Rising