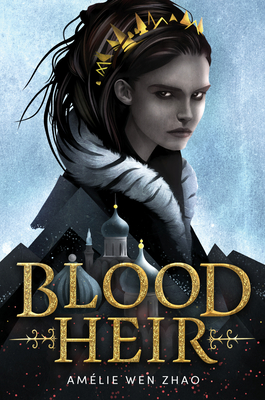 $18.99
Coming Soon - Available for Pre-Order Now
Staff Reviews
---
AWAITING PUBLICATION
This dark Anastasia retelling gives the lost princess a monstrous new tale that is as gruesome as her realistic history. With the power to manipulate certain elements, Affinities are regarded as demons in the kingdom of Cyrilia. Ana has been a smudge on the royal family's name due to her affinity for blood, and now must prove her innocence after being framed for the king's murder. Though naïve to the faults of her kingdom after living locked behind castle walls, Ana realizes that not only must she hunt down her father's murderer, but also fight for those who have been deemed as monsters. Amelie has crafted a world full of diverse and complex characters who cope with oppression, tragedy, and the painful decisions that come with fighting for something bigger than oneself.
- Kiera
— From
Kiera's Recs
Description
---
This hot debut is the first book in an epic new series about a princess hiding a dark secret and the con man she must trust to clear her name for her father's murder. 
 
In the Cyrilian Empire, Affinites are reviled. Their varied gifts to control the world around them are unnatural—dangerous. And Anastacya Mikhailov, the crown princess, has a terrifying secret. Her deadly Affinity to blood is her curse and the reason she has lived her life hidden behind palace walls.

When Ana's father, the emperor, is murdered, her world is shattered. Framed as his killer, Ana must flee the palace to save her life. And to clear her name, she must find her father's murderer on her own. But the Cyrilia beyond the palace walls is far different from the one she thought she knew. Corruption rules the land, and a greater conspiracy is at work—one that threatens the very balance of her world. And there is only one person corrupt enough to help Ana get to its core: Ramson Quicktongue.

A cunning crime lord of the Cyrilian underworld, Ramson has sinister plans—though he might have met his match in Ana. Because in this story, the princess might be the most dangerous player of all.
About the Author
---
Amélie Wen Zhao was born in Paris, grew up in Beijing, and moved to the United States when she was 18 to attend college in New York City, her current home. Blood Heir is her first novel.
Praise For…
---
. . .