The Second Sleep: A novel (Hardcover)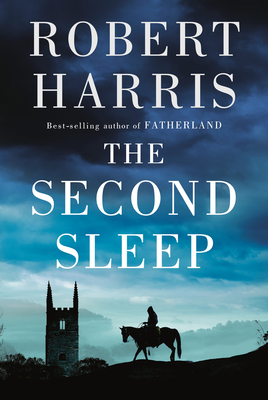 Staff Reviews
---
In 1468, London priest Christopher Fairfax arrives in rural Axford, where the parish priest, Thomas Lacey, recently died. Fairfax plans to deliver the eulogy and leave, but soon realizes that Lacey may have been murdered. Fairfax knows England's history: in the distant past an apocalypse occurred, and the Church now holds complete authority over the country. Lacey, in a shockingly heretical act, owned books published before the apocalypse, and he may have been murdered because of the material he collected. Fairfax stays in Axford, both because he's obsessed with the forbidden information he's uncovering and also because he's attracted to a young widow. Her fiancé is a headstrong and brawny, the opposite of Fairfax, but becomes an indispensable factor in uncovering the unimaginable past. The Second Sleep is an audacious, genre-bending novel.
-Cindy
— From
Cindy's Recs
Description
---
From the internationally best-selling author of Fatherland and the Cicero Trilogy--a chilling and dark new thriller unlike anything Robert Harris has done before.

1468. A young priest, Christopher Fairfax, arrives in a remote Exmoor village to conduct the funeral of his predecessor. The land around is strewn with ancient artefacts--coins, fragments of glass, human bones--which the old parson used to collect. Did his obsession with the past lead to his death?
Fairfax becomes determined to discover the truth. Over the course of the next six days, everything he believes--about himself, his faith, and the history of his world--will be tested to destruction.
About the Author
---
ROBERT HARRIS is the author of twelve novels: Fatherland, Enigma, Archangel, Pompeii, Imperium, The Ghost Writer, Conspirata, The Fear Index, An Officer and a Spy, Dictator, Conclave, and Munich. Several of his books have been adapted to film, most recently The Ghost Writer. His work has been translated into thirty-seven languages. He lives in the village of Kintbury, England, with his wife, Gill Hornby.
Praise For…
---
"It should be enough that Robert Harris, in his earlier books, makes the lives of Cicero and Caesar even more fascinating, and brings to vivid life the citizens of ancient Rome and 1930's Munich. With The Second Sleep he cracks open The Time To Come, making his new book a barnburner, leaving the reader wanting only one thing: more, please."
—Tom Hanks
 
"In the tradition of A Canticle for Leibowitz, Harris presents an extraordinary and terrifyingly plausible vision of a post-technological future, a novel that's at once an adventure story and a meditation on truth and faith. You'll never look at your iPhone in quite the same way again."
—Emily St. John Mandel, author of Station Eleven

"Ingenious . . . The historical thriller hinges on an apocalyptic event and induces a shiver of dread in our present times. . . . When Harris is at his best—and here he is—he writes with a skill and ingenuity that few other novelists can match. In this case, the usual page-turning pleasures are joined by something else: a sense that, through his historical-futuristic setting, Harris has found a unique vantage point to comment on the present."
—William Skidelsky, The Financial Times
 
"Like [Keith Robert's] Pavane and Margaret Atwood's The Handmaid's Tale [Harris] issues a clarion call to the present, urging us to recognise the value of progress, the importance of woolly concepts like liberalism and the rule of law, and all the other ideals we've spent generations fighting for yet seem prepared to sacrifice on the altar of populism. . . . Harris is a master of plotting and, in elegant, understated third-person prose, he ratchets the tension ever upwards. . . . A page-turner."
—Alex Preston, The Guardian (London)
 
"The masterly thriller writer returns."
—50 Best New Books for Autumn, The Times (London)
 
"As with all Harris's books, The Second Sleep is thought-provoking and thrilling in equal parts."
—Claire Hewitt, The Daily Express (London)
 
"The result is a truly surprising future-history thriller. Fabulous, really."
—David Sexton, Evening Standard
 
"Harris is rightly praised as the master of the intelligent thriller. . . . He creates a world teetering between a second dark age and another industrial revolution, peopled by characters drawn with a Dickensian confidence. Genuinely thrilling, wonderfully conceived and entirely without preaching, it probes the nature of history, of collective memory and forgetting, and exposes the fragility of modern civilisation."
—Harry Sidebottom, The Telegraph (London)
 
"A thoroughly absorbing, page-turning narrative in which the author, with his customary storytelling skills, pulls us ever deeper into the imaginative world he has created. . . . It poses challenging questions about the meaning of the past, the idea of progress and the stability of civilisation. It is a fine addition to Harris's diverse body of work. . . [Harris] is working in [the] tradition of the British adventure story, which dates back to John Buchan and, arguably, to late-Victorian works by Robert Louis Stevenson and Conan Doyle."
—Nick Rennison, The Times (London)
 
"A genre-bending thriller . . . An exploration of a world that is both unfamiliar and as old as time, and of the consequences of our flagrant disregard for the existential perils of our own era. . . . [Harris] has contrived in The Second Sleep to do something rather brilliant and new. He has put us at the heart of the mystery. Whatever disaster has struck the world it has struck because of us, our greed and ambition, our arrogance. We are all responsible. . . . The reader is left with at least as many questions as answers, and most of those questions are directed at ourselves."
—Clare Clark, The Guardian (London)
 
"Elegant."
—Antonia Senior, The Times (London)
 
"Harris takes you on a thrilling ride while serving up serious food for thought."
—Jake Kerridge, The Mirror
 
"Thriller Award–winner Harris (Munich) does a masterly job playing with readers' expectations . . . . Few readers will pick up on the fairly planted clues. This is a clever complement to Harris's debut mystery, Fatherland."
—Publishers Weekly (starred review)