Baking Wonderland: A Mix & Match Cookbook for Kids! (Hardcover)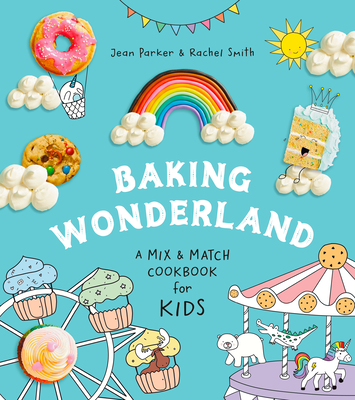 List Price: $24.95
Our Price: $22.46
(Save: $2.50 10%)
Description
---
The perfect gift to get kids into the kitchen this holiday season! Picked as one of the Top 100 Books of 2023 by The Globe & Mail

Are you ready for a baking adventure? Welcome to Baking Wonderland, the sweetest place on Earth! A magical place full of delicious, easy-to-follow baking recipes made especially for kids!

"A sweet dream come true."--The Globe & Mail
This mix-and-match cookbook is for curious kids who love to laugh. It's the perfect first baking book for children to use their imaginations, learn new skills and take their baking adventures to out-of-this-world heights! Be our guest and explore this magical theme park full of the most scrumptious cookie, cupcake, donut and cake recipes. Mix and match them with our fabulous frostings, glazes, toppings and milks to build countless combinations for your dream desserts. Wherever you start your adventure, we know you'll have fun and learn some cool and interesting stuff along the way . . . Just ask the animal friends you'll meet throughout the book!
Inside you'll find a magical baking wonderland complete with:
Cookieland: The cookie carousel will spin you around new recipes like L M N O . . . Peanut Butter Cookies and gluten-free Poop Cookies . . . yum!
Cupcakeland: Reach new heights on the cupcake Ferris wheel by baking Cinnamon Hug Cupcakes or Ruby Red Velvet Cupcakes.
Wonderpark: Learn how to mix and match your favorite treats with fillings, frostings, glazes, toppings and milks that will have you taste testing over and over!
Donutland: Start your engines on the donut speedway! The racers are ready with recipes like Shoe-nuts and Baked Strawberries and Cream Donuts.
Cakeland: When a castle is made of cake, why would you want to leave?! Here you'll find Disappearing Chocolate Cake and Lemony Olive Oil Cake.
Have fun! Make something yummy. This is your cookbook and YOU decide what to bake.
A note for parents, caregivers and educators:
Baking Wonderland
is perfect for encouraging children to develop new skills in the kitchen and engage little ones with curious minds to play with their food. Written in child-centric language, with clear and easy-to-follow step-by-step recipe methods, little bakers will delight in the new skills they develop and learn along the way. With whimsical illustrations, funny jokes, fun facts and lots of cool tips, there is no shortage of education and entertainment on this baking adventure.
About the Author
---
Jean Parker and Rachel Smith grew up making mud pies in the backyard. Since then, the sisters have used their imaginations to turn their love of dessert into a butter tart company and a television career, best known as the hosts of Food Network Canada's The Baker Sisters. When at home, the pair can be found in the kitchen running virtual baking demos and in-person cooking classes for kids. Jean and Rachel live with their families in and around the Toronto area.