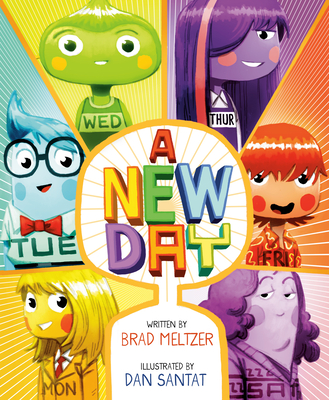 $17.99
Email or call for price/availability
Description
---
This big-hearted story of kindness—reminiscent of The Day the Crayons Quit—is written by the bestselling author of Ordinary People Change the World and illustrated by the Caldecott Medal-winning creator of Beekle.

Sunday quit, just like that. She said she was tired of being a day. And so the other days of the week had no choice but to advertise: "WANTED: A NEW DAY. Must be relaxing, tranquil, and replenishing. Serious inquires only." Soon lots of hopefuls arrived with their suggestions, such as Funday, Bunday, Acrobaturday, SuperheroDay, and even MonstersWhoResembleJellyfishDay! Things quickly got out of hand . . . until one more candidate showed up: a little girl with a thank-you gift for Sunday. The girl suggested simply a nice day--a day to be kind. And her gratitude made a calendar's worth of difference to Sunday, who decided she didn't need to quit after all.

When we appreciate each other a little bit more, all the days of the week can be brand-new days where everything is possible.
About the Author
---
Brad Meltzer is the New York Times bestselling author of Heroes for My Son, Heroes for My Daughter, The First Conspiracy, and a number of suspense novels like The Escape Artist. He also helped find the missing 9/11 flag with his History Channel television show Brad Meltzer's Lost History. He lives in Florida with his wife and their three children.

Dan Santat is the author and/or illustrator of more than one hundred titles, including the Caldecott Medal winner The Adventures of Beekle: The Unimaginary Friend. He graduated with honors from the Art Center College of Design, and is the creator of the Disney animated hit The Replacements. Dan lives in Southern California with his wife, two kids, and various pets.
Praise For…
---
★ "The watercolor, colored-pencil, and crayon illustrations by Caldecott medalist Santat intensify the fun and meaning of this romp." —Booklist, starred review

"Bright art captures the mania, with cotton-candy hues representing each of the anthropomorphic days . . . A humorous, meandering approach to a life lesson about leading every day with benevolence." —Kirkus

"[T]he amount of silliness carries the story through . . . With their oddball shapes and candy-colored hues, the days each have a distinct personality [and] make vivid, solid anchor points as the chaos around them grows." —BCCB

"In this amusing spoof of talent competitions . . . the creators have something more in mind than giving readers a highly inventive tickle." —Publishers Weekly

"Santat's iconic style launches these antics in vivid, expressive illustrations; his pages are saturated with color and, with the funny word-bubble text, give this a graphic novel feel . . . Occasional rhymes provide a sing-song quality that appears at choice moments in the vibrant narrative. Enjoyably executed, this story emphasizes the importance of kindness in a world that sometimes forgets." —School Library Journal