Drive Your Plow Over the Bones of the Dead: A Novel (Hardcover)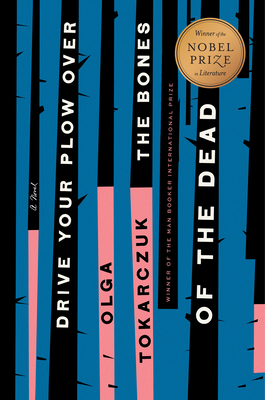 $27.00
Coming Soon - Available for Pre-Order Now
Staff Reviews
---
Janina is an eccentric middle-aged woman who translates Blake, studies astrology, and is acutely tuned to the wilderness near her in rural Poland. In fact, she much prefers animals to people, so when hunters and poachers begin to be gruesomely murdered Janina informs the police that animals are responsible. As the bodies mount, so does her involvement with the mystery, although her status as a certain crank and possible madwoman ensures that she's ignored. This is an extraordinary and disturbing tale - a mystery that becomes more complex as the story continues, accompanied by Janina's often witty observations on man, nature, justice and identity. The ending of this hard-to-categorize novel, a finalist for the 2019 Man Booker International Prize, will knock the breath out of you. Don't miss this excellent translated work from an award-winning writer!
-Cindy
— From
Cindy's Recs
Description
---
FINALIST FOR THE 2019 MAN BOOKER INTERNATIONAL PRIZE

"Extraordinary. Tokarczuk's novel is funny, vivid, dangerous, and disturbing, and it raises some fierce questions about human behavior. My sincere admiration for her brilliant work." --Annie Proulx

In a remote Polish village, Janina devotes the dark winter days to studying astrology, translating the poetry of William Blake, and taking care of the summer homes of wealthy Warsaw residents. Her reputation as a crank and a recluse is amplified by her not-so-secret preference for the company of animals over humans. Then a neighbor, Big Foot, turns up dead. Soon other bodies are discovered, in increasingly strange circumstances. As suspicions mount, Janina inserts herself into the investigation, certain that she knows whodunit. If only anyone would pay her mind . . .

A deeply satisfying thriller cum fairy tale, Drive Your Plow over the Bones of the Dead is a provocative exploration of the murky borderland between sanity and madness, justice and tradition, autonomy and fate. Whom do we deem sane? it asks. Who is worthy of a voice?
About the Author
---
Olga Tokarczuk is one of Poland's most celebrated and beloved authors, a winner of the Man Booker International Prize, as well as her country's highest literary honor, the Nike. She is the author of eight novels and two short story collections, and has been translated into thirty languages. Her work has appeared in n +1, BOMB Magazine, and Asymptote.
Praise For…
---
"Drive Your Plow is exhilarating in a way that feels fierce and private, almost inarticulable; it's one of the most existentially refreshing novels I've read in a long time." –Jia Tolentino, The New Yorker

"Equal parts charming and inspiring. Tokarczuk, with her ability to marry the political, the philosophical, and the eccentric, creates a stirring defense of the natural world, even when it is threatened by consumerism and the Catholic Church." –The Paris Review

"[A] brilliant literary murder mystery."  –Chicago Tribune

"A dark and fun mystery, a feminist comedy, a primer on existentialism, and a weirdly perfect summer read." –LitHub

"Tokarczuk never tells a simple story; she is also writing about animal rights, human rights, William Blake and much more in another genre-melding tour de force." –amNY

"A delightfully tense whodunit with a fairy tale bent….smothered in dark humor, Drive Your Plow is a wry meditation on the perception of sanity and failures of criminal justice systems." –Thrillist

"A riot of quirkiness and eccentricity, and the mood of the book, which shifts from droll humor to melancholy to gentle vulnerability, is unclassifiable—and just right. Tokarczuk's mercurial prose seems capable of just about anything. Like the prizewinning Flights, this novel resists the easy conventions of the contemporary work of fiction. In her depictions of her characters and their worlds—both internal and external—Tokarczuk has created something entirely new."  –Kirkus Reviews (starred)

"A suspenseful murder mystery and a powerful and profound meditation on human existence and how a life fits into the world around it. Novels this thrilling don't come along very often."  –Publisher's Weekly (starred)
 
"Extraordinary. Tokarczuk's novel is funny, vivid, dangerous and disturbing, and it raises some fierce questions about human behavior. My sincere admiration for her brilliant work." –Annie Proulx

"Sardonic humour and gothic plot-twists add a layer of macabre rustic comedy." – The Economist
 
"One of the funniest books of the year." – The Guardian

"Tokarczuk's prescient, provocative and furiously comic fiction seethes with a Blakean conviction of the cleansing power of rage …[An] invigorating combination of the mystical, the vengeful and the domestic…elegantly subversive" – The New Statesman
 
"A barbed, shrewd, parodic eco-noir." – TLS Books of the Year


Praise for Flights

"[Tokarczuk] seems to pour the contents of her incandescent mind onto the page.... Some bits read like campfire tales — stories of an inebriated, Moby-Dick-quoting ferryboat captain gone rogue on his daily route, or a foolish prince straight out of Arabian Nights.... Taken all together, Flights has the quality of a dream.... It's magical: electrifying, strange, and sensationally alive." —Entertainment Weekly 

"A revelation … Flights is a witty, imaginative, hard-to-classify work that is in the broadest sense about travel…. In this risky, restlessly mercurial book, [Tokarczuk has] found a way of turning…philosophy into writing that doesn't just take flight but soars." – NPR's "Fresh Air"

"Her discerning eye shakes things up, in the same way that her book scrambles conventional forms... Like her characters, our narrator is always on the move, and is always noticing and theorizing, often brilliantly." —The New Yorker